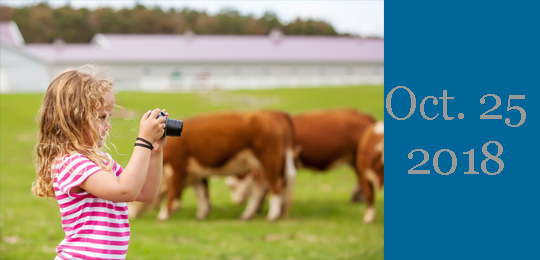 October 25, 2018
A Day in the Life
A San Luis Obispo County Farm Bureau Photography Event 2018
Thank you for all of those who sent us pictures of agriculture at work, at play and at rest! We are continuing to accept pictures. They've been great to share on Facebook and Instagram.
The San Luis Obispo County Farm Bureau is preparing to showcase our County, our people, our commodities and our life at the California Farm Bureau Federation 100th Annual Meeting in San Diego in December.
We are preparing a display video and calendar featuring your pictures. Submit a maximum of two pictures by email or post on our Facebook page on October 25, 2018. Please include the time of day and the subject of the photo. Original photos only. Please do not submit pictures taken by someone else or copyrighted material. Do not mail pictures to us.
Farm Bureau members may order the poster calendar. Mailing charges may apply. Non-members may purchase the calendar in december. No reimbursement will be provided for the use of the pictures in our display.
Choose a subject that explains itself.

Make sure the exposure is not too dark or too light

Make sure the picture is in focus.

Make sure the picture is saved in a large enough file to print. 300dpi

Note the time of day and provide information about its location and about the subject
Include your name and a valid email
By submitting the picture to Farm Bureau, we hold the right to print, display and distribute without compensation
If you are including people, make sure you have their consent to be photographed
Subjects should be San Luis Obispo County agriculture only
Please no trespassing in order to get a great picture
We reserve the right to not print pictures if any of the guidelines are not followed