Partner Scholarships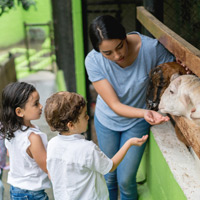 "We can't solve problems by using the same kind of thinking we used when we created them." - Albert Einstein
The San Luis Obispo County Farm Bureau is proud of the excellent students and young leaders who make up our next generation agricultural family. In order to foster educational opportunities, we support scholarships created by our partner organizations and our Farm Bureau committees.
Farm Bureau Women Scholarship
The San Luis Obispo Farm Bureau Women is an active committee that has a historic past. It is the only Farm Bureau Women group remaining in the California Farm Bureau structure. We are so proud of the work they have done to support agriculture and the future of agriculture. Each year the Farm Bureau Women Committee offers scholarships to several deserving students of $1000 each.
Click here to access the application. Good luck!
---
California Farm Bureau Federation Scholarship
March 1, 2020 is the deadline for applications. A collegiate membership is required.he California Farm Bureau Scholarship Foundation was organized to give aid to students with a desire to pursue a career in the agricultural industry. The scholarships are awarded annually based upon academic achievement, career goals, extracurricular activities, determination, leadership skills, and a commitment to study agriculture. Learn more about eligibility here.

Any undergraduate student entering or attending a four-year accredited college or university in California and pursuing a career in the agricultural field. Applicants must be a resident of California. If applying for a Rustici Livestock and Rangeland scholarship, please see eligibility requirements in the Rustici Livestock and Rangeland Scholarship section below.
Scholarship page PDF link, please click here.
---
San Luis Obispo County Foundation for Agricultural Awareness
Applications for the San Luis Obispo County Foundation for Agriculural Awareness must be postmarked by April 1, 2019, or received by hand delivery by April 10, 2020.
For a PDF file of the application please click here.