Membership Discounts

Personalize your business or showcase your Farm Bureau pride with A4 Promotions & Incentives. As a Farm Bureau members you can receive up to a 20% discount on select customizable items. For more information or to order, visit www.A4Promo.com or call (916) 361-3682.
---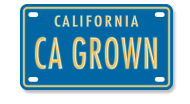 California Farm Bureau members can get a 50 percent discount on California Grown branding and licensing for their agricultural commodities. If you are interested in the program and are looking for more information about the California Grown branding, please go to the California Grown website at www.californiagrown.org or phone (916) 441-5302.
---

If you're paying more than 5.9 cents per minute for in-state calls and 4.9 cents for out-of-state calls, you're paying too much! Our members receive low rates 24 hours a day, seven days a week with no complicated access codes and no "calling circles." Farm Bureau's national long distance program beats all the major carriers and still offers full features. Also available: personal 800 numbers at 5.9 cents per minute and calling cards at 8.9 cents per minute and all this for a low monthly fee of $2.00. To apply, visit www.countryconnect.us.
---

Farm Bureau Bank provides an exciting credit card opportunity. Farm Bureau members can enjoy an introductory rate, earn great rewards and experience top -notch benefits with the new Farm Bureau Bank World MasterCard®. The Farm Bureau Bank World MasterCard features a low introductory rate on balance transfers and no annual fee.
Rewards are earned immediately through the Farm Bureau Bank's MasterCard Rewards Program, including up to 2,500 reward points for balance transfers in the first 30 days and double points on purchases for three months. Reward points can be used for free travel, merchandise, gift certificates and cash back. For more information, call toll-free, (800) 492-3276 or visit www.farmbureaubank.com
---

Farm and ranch employers use Farm Employers Labor Service to reduce their costs and take the headaches out of complying with complicated federal and state regulations. FELS® keeps you up -to-date on farmworker health and safety requirements with The Farm Labor Manual. FELS® offers our members a $100 discount on enrollment. Ask about safety seminars, consulting services, bilingual labor relations and more. For more information, call (800) 753-9073 or go to www.fels.net.