I Am Ag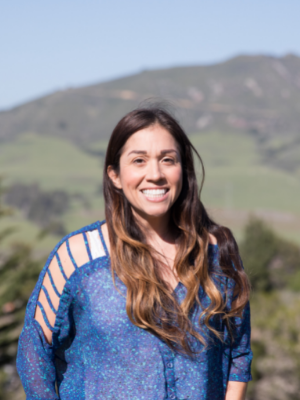 Danilu Ramirez - DRAM Consulting
President
How have you been involved in agriculture?
In 1920 my great grandmother came to the United States with her 12 children (sans husband) and began working on a farm in Nogales, Arizona. Eventually she and my great grandfather were together and settled on a fig farm in Merced, Ca. The other side of the ag family arrived in 1922 "picking their way" from Arizona to the carrot capital of Holtville, where my grandpa and grandma met. Since then, every generation has continued the tradition in agriculture. Being rooted in ag made my decision to attend Cal Poly an easy one. I have always had a passion for science and at the age of 12 I knew I wanted to study plants and become a PCA (my uncle was a crop duster and introduced me to a PCA when I was a kid). After graduating from Cal Poly, SLO I worked as an agronomist at JG Boswell Company. This was one of the most valuable experiences of my entire career. I then proceeded onto several sales positions and also worked in strawberry production in Santa Maria. My experience in irrigation sales led to my interest in water quality and regulatory compliance requirements for growers on the Central Coast. I am a PCA/CCA and the Owner/President of DRAM Agricultural Consulting, Inc. I help growers on the Central Coast remain in compliance with all regulatory requirements revolving around water quality.
What's the biggest challenge agriculture faces?
In California I often wonder how growers will continue to keep up with financial burdens as a result of regulation. Labor shortages are also such a huge factor in the vitality of our industry. Living and breathing regulation every day brings with it a harsh reality that growers can barely keep up now... how will they continue to be sustainable? We work vigorously to be more efficient with every resource. Will that be enough?
Why do you do what you do?
Often, I refer to myself as the middle man advocating for agriculture on behalf of growers. However, sometimes we need to change and adapt into new practices. I strive to work with farming operations to increase profitability, yields and quality while becoming more efficient with resources. Combining knowledge of nutrient uptake, Integrated Pesticide Management, and Irrigation Efficiency are the keys to a sustainable future for California agriculture. Being sustainable encompasses three factors: people, the planet and profits. Working with growers and seeing results through our efforts as well as implementing important.
What's the most recent book you've read?
I am really into James Patterson's Women's Murder Club series right now. I've always dreamed of being in the military (my dad was a Marine) and also had ambitions to become an FBI agent if the whole Ag career was not on the table! Reading about four women who are all in positions that men are normally in, is something I can relate to!
What are your hobbies?
I am a mountain bike coach (Trail Sends Mountain Bike Coaching, LLC is my other business) and I also instruct new shooters through Intro to Handgun classes held at SLOSA. These classes are for anyone who has or has not shot a gun before. Teaching gun safety and proper handling is another passion of mine! I love spending time at the gun range, however with ammo being so hard to get these days I focus on dry fire training at home. I also love to trap shoot and participate in three-gun competitions. Any chance I get I am signed up for a tactical shooting class or self-defense class (I studied Krav Maga in the past). I have been a competitive athlete for most of my life, playing tennis and basketball growing up and after college moving onto marathons, ultra-marathons, Ironman triathlons, adventure racing, and mountain bike racing. Every now and then I take my SUP, kayak or surf board out as well.
What are words you live by?
Nothing good in life comes easy. Challenges, failure, difficult times all lead to some of the best moments and accomplishments. The most difficult times are what shape us, and are clear in my memory. My grandpa told me to never take one red cent I didn't earn and I always have lived up to that promise I made him. My dad is a business man as well, and sometimes things just didn't go well. That makes it tough and scary to be on my own, running my own businesses. I feel blessed and so lucky every day to have amazing clients that allow me to work in agriculture!
---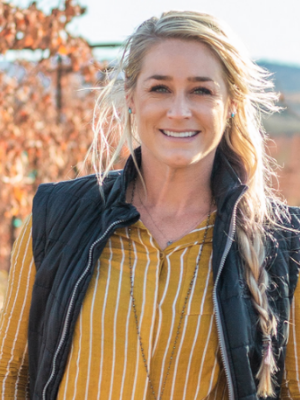 Holly Smith - Gallo Vineyard
Vineyard Manager
What do you grow, raise or produce for agriculture?
I grow wine grapes in SLO County, about 700 acres total.
What do you consider to be the greatest challenge agriculture faces?
Misconceptions affecting consumer choices and the separation between farmer and society.
Why do you do what you do?
I appreciate the opportunity to find ways to actively improve our agriculture practices, efficiency, and innovation as part of my everyday job. It is incredibly challenging, but also rewarding. I enjoy the very basic aspects of the job as it is seasonal and completely consumed around monitoring the stages of plant life through the growing season. We harvest our years' worth of effort and start all over again, with new ideas, insights, and goals.
What is the most recent book you read?
"Girl, Stop Apologizing" by Rachel Hollis
What are your hobbies?
I enjoy deep-sea fishing, diving, and anything close to the ocean.
What are words you live by?
Vamos a ver...
---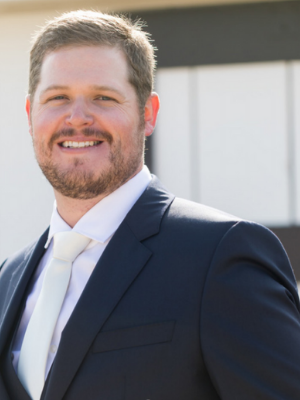 Mike Myers - Roberts Vineyard Services
Operations Manager
What do you grow, raise or produce for agriculture?
We are a management consulting company that offers services to help wine grape growers in a wide variety of areas ranging from the field operations all the way to the actual processing of the fruit if necessary.
What do you consider to be the greatest challenge agriculture faces?
I feel like it changes every year. Right now, aside from COVID-19, the grape industry isn't at its highest. We are having a hard time selling grapes right now, whereas two years ago we weren't having that problem. But, aside from that, I think labor is a major issue.
Why do you do what you do?
This industry and agriculture in general has been in my family for a while. After I graduated from Cal Poly in 2015, I hadn't planned on going into vineyards, but I decided that I did want to stay in the area and that kind of is one of the main crops here.
What is the most recent book you read?
Difficult Conversations by Bruce Patton, Douglas Stone, and Sheila Heen
What are your hobbies?
My main hobby is photography. I started with just a general interest, and it has grown from there. Now, I even do it for some of our clients who want photos taken of their vineyards. I also run a blog on the side for reviewing beer called Craft not Crap, so I've kind of moved a lot of my photography to be focused around beer now.
What are words you live by?
One thing that has been in my family, that my dad passed on to me is "Honesty pays business." My dad told me that quote when I was about six or seven years old and it's something I've always lived by
---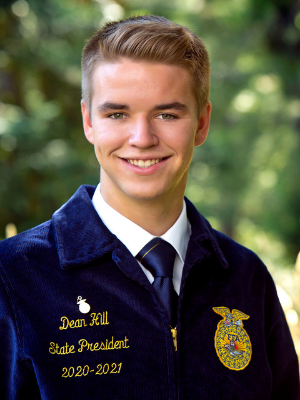 Dean Hill - California Future Farmers of America
State President
How have you been involved in agriculture?
I grew up a 4th generation agriculturalist. On some level, it has always been a part of my life. However, when I got into high school, my involvement completely changed. I joined the Future Farmers of America by walking into the Agriculture Biology course my freshman year. After a lot of time spent learning and growing in the organization, I was selected and elected to serve all 95,000 students of agriculture education in California. On May 1st, I was installed as the California State FFA President. I plan on continuing to be involved in agriculture as I advance my education at Cal Poly San Luis Obispo majoring in Agricultural Systems Management.
What's the biggest challenge agriculture faces?
American agricultural technology has been vastly improving and growing for several years now which is terrific news for the industry. However, many farmers are struggling to use this technology with the lack of accessible internet. With the urban sprawl and the population growing, farmers have to use less land to grow more food. Broadband internet is an essential tool in the growth of the agriculture industry. It is a catalyst for positive growth in agriculture. Expanding broadband to rural America can allow farmers to utilize technology to increase efficiency, improve environmental sustainability and create opportunities to educate the public.
Why do you do what you do?
I am blessed to get to do what I do. I decided to serve the FFA for the moments that students realize they can be something more. For me, that moment came in April of my freshman year. I saw my brother give a report in front of thousands of people. Watching all of this, I was very proud of him, and I realized I could do that too. I began to realize what this organization can truly do. Now, I am fortunate enough to help students across California get to this moment. There's no feeling like helping someone realize their potential.
What's the most recent book you read?
Tuesdays with Morrie by Mitch Albom. This is a great book with a very powerful lesson.
What are words you live by?
"Stay Frosty." Those are words I have said for longer than I can remember, and really can mean anything by the way one interprets it. To me, "Stay Frosty" means to always stay cool and positive. No matter how bad the situation is, it's important to just keep going and get through it. I say those words as a reminder to keep going for me, to push past whatever obstacle is in the way, and make it to the end.
The greatest piece of advice I have heard this year was from Richard Denir. He said, "...to listen and take what everyone tells you, but do your own research on it. Decide if it's true or useful based on your observations." Now I have always been a very trusting person and I listen to what others have to say, but I never put more thought into advice. Since I heard those words, I have discovered he was absolutely right. Different methods work for different people, so decide what works better for you. This was something I heard this year and thought it was very relevant, but I recommend trying it and see if it works for you, do your own research.
---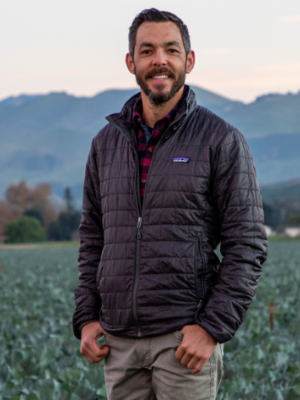 Brycen Ikeda - Ikeda Brothers and POVE
What do you grow, raise or produce for agriculture?
We grow vegetable row crops as our main commodity, our biggest being Chinese cabbage.
What is the biggest change within the agricultural industry/community you have seen through your work?
There are a lot of challenges, but they all tie into the central theme – the biggest challenge – of staying viable and continuing to run successfully. Remaining profitable is continuing to become tougher and tougher, the prices you receive aren't keeping pace. You just have to become more efficient and try to drive down costs elsewhere.
Why do you do what you do?
I enjoy it, I think. I think everyone's vision as a kid of a farmer is that you're outside growing things and harvesting things, you never have to set foot indoors. Unfortunately, that's not 100% the case; there's more business to the Ag Business than I anticipated. The biggest pro and the biggest con of what I do is that it's a family thing. I'm a fourth-generation farmer with two little ones and one more on the way, I would like to give my kids the opportunity that my father gave me – IF they want to.
What is the most recent book you read?
"The Undoing Project" by Michal Lewis and "Paddle your Own Canoe" by Nick Offerman. I really enjoyed that book.
What are your hobbies?
I rock climb – I boulder. My daughter and my wife also climb. My favorite hobby is Brazilian Ju Jitsu and golf. The common theme of my hobbies is that you have to check out while you're doing them, you don't have space to wonder if you fertilized your avocados enough.
What are words you live by?
My great-grandfather wrote a pretty impressive will with a line that says, "Be earnest in all that you do. Halfhearted efforts will not accomplish anything." We all choose different parts and apply them to different parts of our lives. My roommate in college always used to say, "If you're gonna be a bear, be a grizzly." My grandfather's will and my college roommate's motto ended up colliding and both making sense.
---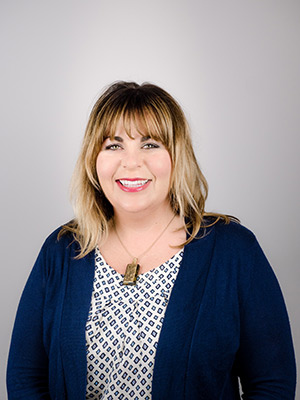 Sarah Kramer - Umpqua Bank
Senior Vice President, Commercial Relationship Manager
What is your role within the agricultural industry?
I am a Commercial Lender. I specialize in almonds, avocados, cattle, wine grapes and wineries, and more.
What do you consider to be the greatest challenge agriculture faces?
Water availability and government regulations.
Why do you do what you do?
I truly enjoy working with farmers and ranchers. The best part of my job is allowing peoples' life long passions and dreams to come to fruition.
What is the most recent book you read?
I end every day by reading. I am currently reading "Little Fires Everywhere" by Celeste Ng.
What are your hobbies?
Volunteering and golfing when I have time. I currently sit on the following boards, in addition to the Farm Bureau: Paso Robles Wine Country Alliance (Treasurer); San Luis Obispo County CattleWomen (Past President); San Luis Obispo County Agriculture Education Committee (Treasurer); Paso Robles Pioneer Day Committee; Paso Robles High School Agricultural Advisory Committee; and Agricultural Liaison Advisory Board of San Luis Obispo County. I volunteer through various events hosted by the boards that I sit on. One of my favorites is the Great AGventure which is hosted by the San Luis Obispo County Agricultural Education Committee. This is an annual field trip for 4th Graders in San Luis Obispo County in which they learn about various aspects of agriculture (plants, science, animals, engines), and they get to participate in an "Ag-tivity."
What are words you live by?
Try to live life to the fullest every day.
---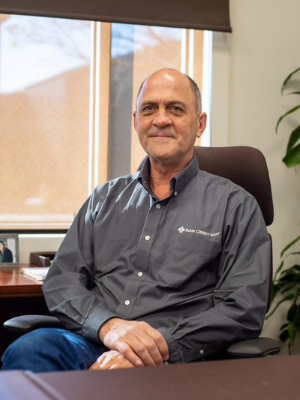 Tom McGuire - Farm Credit West
Senior Vice President
How are you involved in agriculture?
I am a portfolio manager for Farm Credit West in Templeton. I've been working with farmers and ranchers for 38 years providing financing for farm land, equipment and operating costs. Farm Credit West has been a big part of San Luis Obispo agriculture since the time when the main crops were cattle and grain. We provide relationship lending to producers of grapes, wine, cattle, grain, citrus, avocados, vegetables, etc.
What do you consider to be the greatest challenge agriculture faces?
While water and labor supply will continue to be huge issues for agriculture, the general public's increasing lack of understanding about agriculture will continue to be a source of difficulty in many ways such as government regulations and taxation.
Why do you do what you do?
I was raised on a cattle ranch in northern California and wanted to work with country folks and support agriculture. I still enjoy working closely with people who have that connection to the earth; the original back-to-nature community. I am a huge fan of Farm Credit West's cooperative structure that makes us a reliable partner dedicated to serving the needs of our agricultural customers.
What is the most recent book you read?
Forty Autumns by Nina Wilner, a story about a family in former East Germany and how they were affected during the Cold War.
What are your hobbies?
Hiking, gardening, shooting, reading and watching movies.
What are words you live by?
Be honest, kind and fair. Always do more than your fair share.
---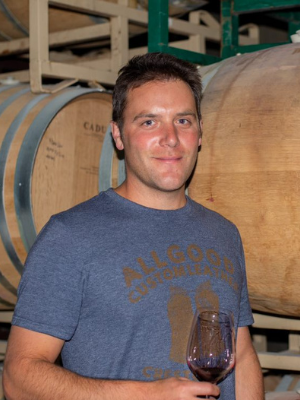 Anthony Yount - Denner Vineyards
Winemaker
How are you involved in agriculture?
My family and I have a 7 ½-acre vineyard in York Mountain. We also raise chickens (meat and eggs), lambs, and pigs. Through my day job as a winemaker, I also work with over 30 different vineyards throughout the Central Coast.
What's the biggest challenge agriculture faces?
Well, that's a tough one because there are so many. For our small business, it's labor. There's so much competition for a decreasing pool of people that are interested in working in agriculture. For the industry as a whole, it's water – we have to find ways to maintain yields and profitability while using less water.
Why do you do what you do?
I love the differences each vintage brings. Every day there are new challenges and, as a result, no two days are the same. And come on – how can you not love working outside on the Central Coast?!
What's the most recent book you read?
I just finished reading Horseman, Pass By by Larry McMurtry. A brutal story about the struggles faced in the world of agriculture – but so well written.
What are your hobbies?
Fishing, cooking, playing with my two daughters, riding my bicycle, and hunting.
What are words you live by?
You can choose to be happy or you can choose to be sad.
---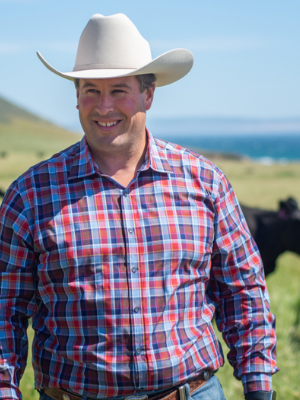 Wyatt Mello - Mello Land and Cattle Company
Partner
What do you grow, raise or produce for agriculture?
We have a cattle operation in San Luis Obispo county. Part of it is a cow/calf operation, and part of it is a stocking operation. The stocking cattle is yearly and comes to us when our grass is growing, after which they go to a feed lot.
What do you consider to be the greatest challenge agriculture faces?
The agricultural community has been faced with many challenges in the past, but we are also presented with everchanging obstacles. Policy and regulatory changes as well as anti-agriculture groups are two of the more prominent challenges facing the industry.
Why do you do what you do?
We have a love for what wedo, it's been in our family formultiple generations. We have a love for the land we work on and we take pride in improving every aspect of the operation. It's very holistic in nature and we have specific paddocks we focus on including native plant regeneration and specific grazing plans.
What is the most recent book you read?
Talking to Strangers by Malcolm Gladwell and California Plants by Matt Ritter
What are your hobbies?
I really do enjoy what we do here. When I'm not with my three kids, I enjoy hunting and fishing. Me and some guys like to go elk hunting in Colorado as well.
---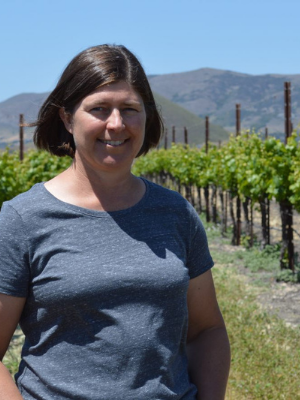 Erin Amaral - Pacific Coast Farming
Vineyard Manager
How are you involved in agriculture?
I am a vineyard manager and partner of Pacific Coast Farming. Pacific Coast Farming is a vineyard management and vineyard development company in South San Luis Obispo County, based in the Edna Valley. I was raised on a farm in Crows Landing, California where my family grows almonds and operates a commercial harvesting business. I moved to San Luis Obispo in 1995 to attend Cal Poly and got a degree in Plant Protection Science, focusing on Viticulture. I am a proud graduate of the California Ag Leadership Program, Class 46.
What's the biggest challenge agriculture faces?
There are many challenges that agriculture faces, but one of the greater issues in California is water. We need a sustainable water supply to grow food at the same time as protecting the resource. Growers are having to adapt to new regulations that make farming food more challenging. I hope that farmers continue to use their voices and be a part of the process to ensure that these regulations are based on sound science.
Why do you do what you do?
I love farming and working with the land.
What is the most recent book you've read?
I'm taking some personal time and enjoying the Outlander series. I will mention that one of my favorite reads was Leadership & Self Deception: Getting Out of the Box.
What are words you live by?
Life is too short to wake up with regrets. Believe everything happens for a reason. If you get a chance take it. If it changes your life let it. Nobody said it would be easy, they just promised it would be worth it.
---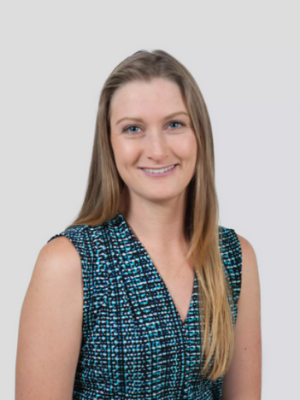 Audrey Mora - Heritage Insurance Agency
Risk Advisor
What do you grow, raise or produce for agriculture?
My family (on both sides) have been cattle ranchers here on the Central Coast, going back five generations. While I'm still involved with the operation my grandpa runs, my focus shifted to be an asset for the agriculture industry to lean on. My dad was a Risk Advisor to farms & ranches in Northern California, so when it came time for me to leave Cal Poly, I decided I would follow his path, but here on the Central Coast. I saw this as a great way for me to weave my passion for agriculture into a lifelong career. Now my days revolve around having discussions with businesses in the wine and ag industry on how they can best protect their greatest assets.
What do you consider to be the greatest challenge agriculture faces?
The breakdown of communication between agriculture and consumers. It's unfortunate, but a lot of people believe what they see on the internet without doing further research. This sways how they purchase products, feed their families, and ultimately how they vote and support agriculture. In my experience, most people do want to have conversations and learn more about where their food comes from, but we need to initiate those conversations and leverage social media to share our stories with people who aren't familiar with what we do.
Why do you do what you do?
At the end of the day, this world goes around because of agriculture and the ability to put food on the table. I believe that by doing the best job I can, I am in a small way giving back to an industry that gives us everything and expects nothing in return. The fact that I can help farmers protect their livelihoods or be there to provide peace of mind when things do go wrong is an honor.
What is the most recent book you read?
You are a Badass by Jen Sincero
What are your hobbies?
Hiking, backpacking, and camping with my family, friends and dog are some of my favorite things to do. I also enjoy community involvement with associations supporting the wine industry here on the Central Coast. I'm not sure if working cattle would be considered a hobby, but I can be found doing that any chance I get!
What are words you live by?
Always do your best. What you plant now, you will harvest later.
---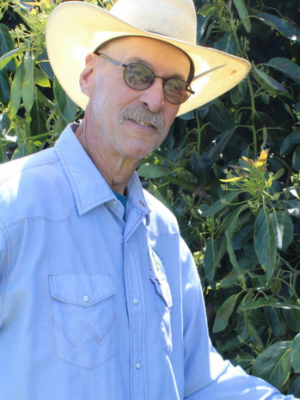 Dave Hendrickson - Double H Avocado Ranch
Co-owner & Ranch Manager
What do you grow, raise or produce for agriculture?
Haas avocados. The ranch itself is 13 acres but the avocados themselves are 6 and half acres.
What do you consider to be the greatest challenge agriculture faces?
The greatest challenge is nonagriculture peoples' disconnect with where their food comes from. Especially now and in these times. There is a lot of people that think their food just comes from the grocery store. They have no idea about the farmers and ranchers and truckers that get their food there. I personally think there should be a basic agriculture class taught in grade school to teach kids from an early age where their food comes from.
Why do you do what you do?
We bought this property in 1986, and for the first 12 years we grew oat hay. We got into the avocado business 22 years ago. I retired in 2006, I worked for the state. We planted the trees 22 years ago and now it works as a supplemental retirement income. Never thought it would be a sole income of any kind, just supplemental. And to provide the highest quality product our ranch can produce. I think those of us that grow avocados in the region, we think we grow the best avocados in the state. When ours come mature they have the best flavor than any other place in the state.
What is the most recent book you read?
I read One Hundred Poems, by Waddie Mitchell, a cowboy poet. I do enjoy cowboy music and cowboy poetry music festivals. It's something you don't find on local channels.
What are your hobbies?
Slo-pitch softball, pickleball and welding
What are words you live by?
To practice the "Cowboy Code." Your word is your bond, you finish what you start
---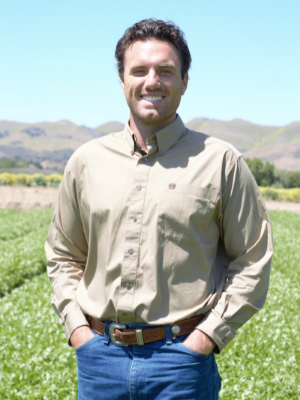 Grant Talley - Talley Farms
Production and Irrigation Manager
How are you involved in agriculture?
I am currently the Production and Irrigation Manager at Talley Farms. Our company was founded by my great-grandfather over 70 years ago, and we farm primarily in the Arroyo Grande and Edna Valley regions. We grow permanent crops, row crops, and have our local direct-to-consumer program called the Talley Box. We commercially grow avocados, lemons, bell peppers, napa cabbage, bok choy, kale, spinach, parsley, and cilantro. With our Talley Box program, we grow upwards of 30+ different crops over the course of a year. My involvement in agriculture started when I turned 12 years old. This was a good opportunity to learn about the farm and appreciate the value of a dollar. Working at a young age gave me the ability to work in most of the departments and helped prepare me for the position I am in today.
What's the biggest challenge agriculture faces?
The current landscape in farming feels like a constant battle. Whether it's struggling with the lack of water, higher wage costs, or increasing regulation, there's always something going on. If I had to narrow it down to San Luis Obispo County, I would say one of the biggest challenges right now are water regulations that have come before the SLO County Supervisors, Groundwater Sustainability Agencies and the Regional Water Board. I worry about giving government more power to tell farmers what they can and can't grow. I see this as a huge violation of private property rights and a big abandonment of the farmers in our area. Passing more of these regulations will make it more difficult to justify growing in our area. I feel very strongly about preserving the farming and ranching legacy in San Luis Obispo County.
Why do you do what you do?
I had an opportunity to come back to the farm a few years ago, and since I've been back, it has really been a blessing. I'm able to work with my family and have a job that allows me to appreciate the beauty of the Central Coast. I really enjoy farming and the rich community and culture that comes along with it.
What's the most recent book you've read?
Can't Hurt Me by David Goggins.
What are your hobbies?
Golf, tennis, hiking, fishing, hunting, hanging out with friends and watching movies.
What are words you live by?
"Excuses always lead to mediocrity, but commitment leads to excellence." I have that written above my desk as a daily reminder.
---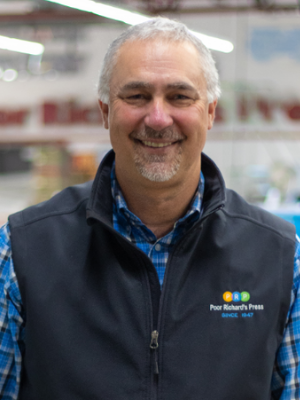 Todd Ventura - Poor Richard's Press
President
What do you grow, raise or produce for agriculture?
Although I don't currently grow or raise any agricultural products, I do have a large agricultural background. I grew up on a ranch east of Creston and was involved in cattle, grain faming, showing, 4-H, FFA, and livestock judging livestock in high school and college. During college, I got a part time job at Poor Richard's Press. Currently, the agriculture industry is our largest customer base.
What do you consider to be the greatest challenge agriculture faces?
Communication. Effectively communicating what American agriculture does for the consumer. People don't understand where food comes from and how it is produced.
Why do you do what you do?
I am in a unique position to combine communication and agriculture. It gives me an opportunity to help expand the understanding of agriculture in our communities.
What are your hobbies?
I work a lot, but I love baseball. I'm an Atlanta Braves fan.
What are words you live by?
---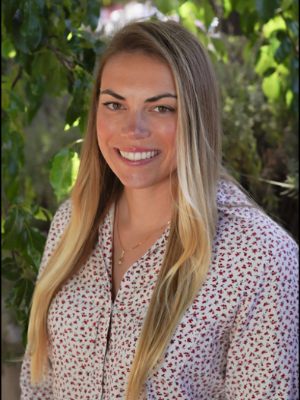 Valerie Bednarski - Tule Technologies
Account Manager
How are you involved in agriculture?
I am the Central California Account Manager for Tule Technologies. We help growers make irrigation decisions by measuring crop water use. Knowing how much water their crop is using makes it easier for growers to decide how much to irrigate. Our technology is also used by researchers and engineering firms to help improve the current literature on irrigation strategies. I enjoy discussing water politics, although I certainly wouldn't call myself an expert. I am also a member of the SLO chapter of California Women for Agriculture. My favorite part of being involved in agriculture is meeting our customers at their ranches! I get to meet winegrape growers on the Central Coast and tree nut growers in the Valley.
What's the biggest challenge agriculture faces?
Water! I don't know if there is a single person that understands all the nuances of California water issues. Farmers face a lot of public opposition when it comes to water use. I have friends that work on the environmental side of things, and I hope to help bridge a gap. I truly believe that there is a solution that could work for everyone.
Why do you do what you do?
I spent a year in Montana doing research work in river water management. In a small town, I was involved in city planning, in-home water conservation, down river irrigators, and fish. Being in a small community allowed me to see the direct impact my work had on water conservation. But I missed California, so I looked for a job where I could talk about water and work with people here. At Tule, I get to feel like I'm making that same kind of impact by helping farmers figure out how to save money, time, and water. And I've always wanted to work outside and live on the Central Coast!
What's the most recent book you've read?
I recently started listening to books on audio since I spend a lot of time on the road. Coincidentally, the most recent book I listen to is called "The Road to Character"by David Brooks. He discusses how inward personal development is just as important as outward career success.
What are your hobbies?
If you asked my friends and family, they'd probably say my hobby is getting injured! I spend a lot of time outside and take tumbles frequently. But my real hobbies are making pizza from scratch, gravel/mountain biking, backpacking, lobster diving, and playing with whatever random sporting equipment I might have on hand. I've recently been traveling with two lacrosse sticks and a frisbee.
What are words you live by?
"You meet amazing people in places that are hard to get to." My friend told me this one day while biking from Montana to Mexico. I like to think of it in the physical sense, like on top of mountains. And also in the achievement sense, like working with influential people.
Anything else you'd like to add?
I am so happy to be a part of the SLO community, and I look forward to making more connections!