Our Farm Bureau History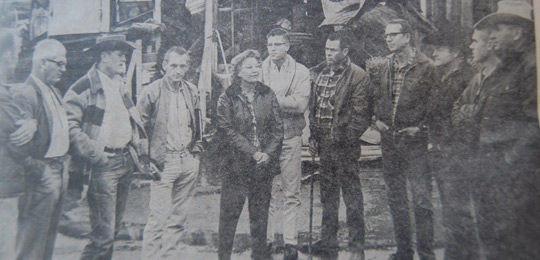 Read our special 100th Anniversary publication here.
In 1920, during the economic depression following World War I, a group of forward thinking residents proposed to the County Board of Supervisors that a Farm Bureau organization should be formed to unify the common interests of local farmers and financially strengthen the agricultural community. Many of those people were active members of the Chamber of Commerce and felt that the same type of representation was needed for farmers and ranchers. The Board offered support for the organization only if local farmers would present an interest for establishing a local Farm Bureau. In response to the board's request, farmers S. Jackson Lowe, E.R. Lewis, Otto Sinsheimer and others - with correspondence from Agricultural Extension Service Director B.H. Crocheron - initiated the Farm Bureau movement for San Luis Obispo County in the spring of 1921.
The preliminary secretarial work of the Farm Bureau project was handled through the Chamber of Commerce. The first meeting of the Farm Bureau directors, under the leadership of the Agricultural Extension Service, was on December 28, 1922. Those present at the initial session: E.R. Lewis of Edna, M.F. Gates of Templeton, P.R. Moegnard, Webb Moore and H.K. Klaucke of Arroyo Grande, S. Jackson Lowe of San Luis Obispo, Chris Jesperson of Union, Perry Lindbergh of Park Hill, I.H. Wheeler of Las Pilitas, Frank Murphy, county agent; and M.B. Dempsey.
The Farm Bureau was divided into districts known as "Farm Centers," each having a chairman, vice chairman, and secretary treasurer. Each farm center chairman represented their center on the Farm Bureau's Board of Directors, as is still done today.
The first Farm Bureau executive staff consisted of: E.R. Lewis, president; Webb Moore, vice president; and Bernice Coakley, office secretary for the Agricultural Extension Service.
The San Luis Obispo County Farm Bureau's first membership drive resulted in 481 farmer and ranchers signing up at $2.50 per person. These members chose local farm centers to represent their voice. The first farm centers organized were: Shandon, Annette, Cholame, Las Pilitas, Edna, Park Hill, Arroyo Grande, Union, Templeton, Creston, Estrella and Atascadero.
By 1923, The "Farm Home Department" - later called the "Farm Bureau Women" - was organized with a first year membership of 350 women. The beginning projects of the Farm Home Department were school lunches, nutrition, and farm home improvement. Farm Bureau Women is still an important committee of our local organization today. It is the last such committee in California. The state organization dissolved the committee as an official element of Farm Bureau years ago, instead brining all members into committee work. But our Farm Bureau Women have an important mission. They raise funds and award scholarships to young people who have shown potential for scholastic achievement and leadership. Many of the committee members have been friends for most of their lives. In 1949, the Farm Bureau Women's "Chairman" was granted a seat on the Farm Bureau Board of Directors. This was unheard of in the early years before the women's movement. San Luis Obispo County Farm Bureau was very progressive compared to most other Farm Bureau's that only allowed women to have an "advisory" position on the board.
In 1928, county projects were developed by the Ag. Extention Service and the Farm Bureau Board of Directors. Some of these projects included revising the Farm Bureau Constitution, obtaining less expensive auto insurance rates for members, attracting new members through membership drives, supporting local 4-H clubs, conducting tax research and most importantly squirrel eradication.
Farmers and ranchers have readily shared "stories" about county weather and rainfall totals, in order to determine a more accurate accounting of the rainfall amounts for the different areas of the county, a rain-gauge recorder was appointed for each farm center, in 1929. Each recorder received a rain gauge and forms to keep rain fall records. Members continue to talk about the weather and, instead of the basic instriuments of years gone by, they rely on advanced technology to sample air and soil conditions and follow sophisticated data models to predict weather.
Farming needs did not stop with the Farm Centers; the Grain Improvement Association was founded as a non-profit cooperative in 1940 for the benefit of its members to engage in the cleaning of grain and grain improvement work. The first meeting of the "Farm Bureau Grain Improvement Association" was held in Paso Robles. The Association owned and operated the first portable seed cleaner and treater in San Luis Obispo County. Grain improvement, its own 501(c) 3, continues to operate a copperative seed cleaner.
Providing more county agriculture information to the farmers and ranchers became a necessity. In order to expedite communication, Farm Bureau, began sending out their first monthly newsletter. The first mailing was sent to over 700 families beginning in 1959. The newsletter consisted of new scientific research and current information on many subjects in home economics.
San Luis Obispo County Farm Bureau suffered a large loss as fire swept through and destroyed the Farm Bureau building and warehouse at 157 Higuera St. on December 20, 1964, fire damages were estimated at $100,000. Only a few records in the Farm Bureau fire proof filing cabinet were salvaged.
On October 24, 1965 less then a year later, dedication ceremonies were held to honor the new Farm Bureau and Farm Supply building on Tank Farm Road.
By 1970, the SLO County Farm Bureau was totally immersed in the preservation of agricultural land and the implementation of agricultural awareness throughout the county. The County Board of Supervisors approved the Farm Bureau's request to establish a "County Agriculture Liaison Board." The Liaison Board was designed to receive and review ordinances, elements and other issues related to agriculture and advise the Board of Supervisors. ALAB continues to meet to this day on a monthly basis in our Farm Bureau office.
It hardly seemed like 50 years when, in 1972, San Luis Obispo County Farm Bureau celebrated its 50th anniversary. The celebration was held at the Royal Inn Motel in San Luis Obispo. Fourteen former presidents of the county Farm Bureau attended and California Director of Agriculture C. Brunell Christensen was the keynote speaker.
Just as unexpected events happen to farmers and ranchers, nature plays its hand without notice and as a result of the appearance of the Mediterranean Fruit Fly in 1981; the Farm Bureau requested the County Board of Supervisors endorse an aggressive program to eradicate the Mediterranean Fruit Fly before it could become a problem to the county's agriculture. As a result, a resolution was written.
The "California Foundation for Agriculture in the Classroom," ,in 1986, was officially founded by The California Farm Bureau. Its purpose was to help teachers from grades kindergarten through 12 integrate agriculture subjects into their students' education.
With the help from other local agricultural organizations, Farm Bureau sponsored a seminar to demonstrate to county teachers how to use agriculture related subjects in their classroom courses. In 1989, this event evolved into the "Agricultural Education Committee", which is now its own 501 (c)3. The 1st AGventure was held by the Ag Education Committee at the Mid-State Fair Grounds on October 16, 2001, with 1,400 4th grade participants. Each year, the committee works with volunteers to host thousands of school children at the Great AgVenture - north and south.
It became clear to Farm Bureau members that there were members among the organization that time and time again had risen the call to lead, promote and advocate for the preservation of agriculture. The "Agriculturalist of the Year" Award was created to recognize those individuals. In 1988, former Farm Bureau President, Don Warden, was the first to receive the "Agriculturalist of the Year" award at the Mid-State Fair's annual Cattlemen and Farmer's Day.
In 1990 it was time for the Farm Bureau to have a means of recognition. It held a contest for members to design a new logo for the organization. The new official logo was later developed from a Cal Poly student's Senior Project in 1992.
In 1994, the Edna Farm Center, one of six Farm Centers, sponsored the "Cattle Brand History Preservation Barbecue" at the Farm Bureau office. Guests of the event had their brands imprinted onto wooden plaques.
SLO County Farm Bureau and the Foundation for Agriculture Awareness installed a demonstration farm in 1998 in front of the then Farm Bureau office on tank Farm Road. The demonstration farm was designed to represent the different commodities that are grown in San Luis Obispo County. Each box was 1/100th of an acre and each furrow is the standard size for an actual crop. Lesson plans were written for local classes to learn more about the demonstration farm and agriculture in the county.
Memberships were growing and new ways of attracting members became important. One such membership was the Business Membership. These businesses were offered opportunities to be listed in the Farmer and Rancher monthly and to advertise with discounts. The first business to come on board was Wayne's Tire, they joined in 1998.
As changes go, so did a fundamental institution Cal Farm Insurance. They moved out of Farm Bureau in 1999, making room for expansion for staff and for more storage. Allied Insurance and Nationwide Health became a partner within the California Farm Bureau Federation and county Farm Bureaus adding more value to the Farm Bureau membership and increasing the number of benefits.
The Cowboy Art, Music & Poetry Festival later called "SLO County Western Music, Poetry & Arts Festival" was approved in 2001, as a fundraising event for the Ag Education Program, and was held at the Mid-State Fair Grounds combined with the Annual Meeting. This event was held through 2005. As changes makes growth and growth make for better ability to serve the community, the new Western Festival was revealed in spring, 2007 as it joined in partnership with the Annual San Luis Obispo Cattlemen Association's Art Show.
More work was in store for the directors of Farm Bureau as they began retooling their organization in 2002. A new Mission Statement and goals for the San Luis Obispo County Farm Bureau was created from many goals meetings.
Farm Centers work on individual issues and resolve a variety of concerns within their districts. Events within their district sometimes affect them directly. The area of Adelaida formed a Historical Society and the Adelaida Farm Center began a long term lease of the Adelaida School House which eventually became a Historical Monument. The Adelaida Farm Center fundraised to assist in the refurbishing of their school house. This is a structure that dates back to the early 1900's.
In 2004, long term tenant, Farm Supply Company moved down the road to its new facility and in 2005 the property occupied by Farm Supply was leased to Quinn Rental.
Sometimes Centers outgrow their names as did Cambria Farm Center which was renamed to include that area of Morro Bay north, thus, the North Coast Farm Center. At the same time the Nipomo Farm Center was renamed the South County/Nipomo Farm Center for the same reason.
Bringing all of the communities together to discuss issues and encourage questions and answers on a one to one basis the first Regional Board Meeting was held in South County at the Edwards Barn in 2006. Doug Mosebar CFBF president attended the meeting. Not only did it bring old members together, it garnered several new members who were just realizing the effectiveness of the Farm Bureau in area issues.