Membership Discounts

Personalize your business or showcase your Farm Bureau pride with A4 Promotions & Incentives. As a Farm Bureau members you can receive up to a 20% discount on select customizable items. For more information or to order, visit www.farmbureaucompanystore.com or call (916) 361-3682.
---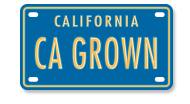 Are your products labeled California Grown? Farm Bureau members in California can now have access to a 50% discount on California Grown branding and licensing for their agricultural commodities. The purpose of the California Grown brand is to increase awareness and consumption of California agricultural products among California consumers. California Farm Bureau, a California Grown member, is partnering with California Grown to further promote the brand and as a result, Farm Bureau members have access to a significant discount. IF you are interested in the program and are looking for more information about the California Grown branding, please go to the California Grown website at www.californiagrown.org or phone (916) 441-5302.
*Some limitations may apply.
---

Farm Bureau Bank has built its entire existence around the lifestyle and needs of farmers and ranchers across America. Here to help grow traditions, give back to agricultural communities, and offer financial convenience for your unique way of life, Farm Bureau Bank is committed to serving you.
Proudly serving Farm Bureau members with benefits such as: High-Earning Deposit Accounts, Personal & Business Credit Cards, Vehicle & Equipment Loans, Business Banking and more!
Banking services provided by Farm Bureau Bank, FSB. Farm Bureau, FB, and the FB National Logo are registered services marks owned by, and used by Farm Bureau FSB under license from the American Farm Bureau Federation. Visit www.farmbureau.bank
---

Farm and ranch employers use Farm Employers Labor Service to reduce their costs and take the headaches out of complying with complicated federal and state regulations. FELS® keeps you up -to-date on farmworker health and safety requirements with The Farm Labor Manual. FELS® offers our members a $100 discount on enrollment. Ask about safety seminars, consulting services, bilingual labor relations and more. For more information, call (800) 753-9073 or go to www.fels.net.