October 18, 2019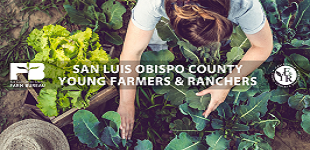 Please join us on November 7th at 5:30pm for the San Luis Obispo County Young Farmers & Ranchers kickoff meeting at the Farm Bureau office (4875 Morabito Place).
Have dinner on us, and network with local young professionals and agriculture students from Cuesta College and Cal Poly. We'll talk about opportunities to get involved with YF&R at the local, state and national level that will increase your knowledge of farming and ranching policy issues, connect you with industry leaders, and prepare you for a successful career in agriculture.
Please RSVP on our Facebook event, by calling our office at 805-543-3654, or by email to info@slofarmbureau.org to help get a count for dinner. Can't make this meeting, but still want to be involved in YF&R? Send an email to SLO County Farm Bureau Executive Director Brent Burchett at bburchett@slofarmbureau.org. YF&R will meet quarterly in 2020, with activities in between.
About YF&R
Young Farmers & Ranchers are active agriculturists between the ages of 18 and 35 and involved in crop production, ranching, banking, business, and other industry areas.
Founded in 1947, YF&R facilitates professional development and social networking opportunities among young farmers, ranchers and people who work in agriculture-related jobs. YF&R is an opportunity for passionate agriculturists to connect with individuals who have the same professional interests and challenges.
The Young Farmers and Ranchers Program is a committee of the California Farm Bureau Federation and the San Luis Obispo County Farm Bureau.