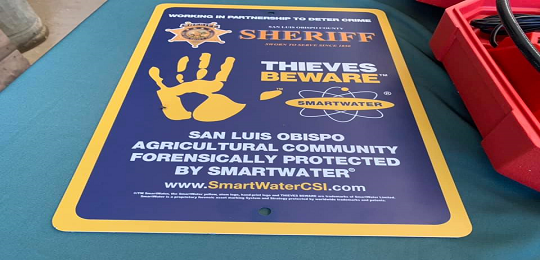 September 20, 2019
These kits allow you to mark equipment and other valuables with an invisible liquid that can be used to identify stolen property and return it to the owner after a theft. We also hope this will be a deterrent to thieves who target rural parts of our county.
The liquid has its own unique fingerprint or DNA encryption that's registered to individual farmers or ranchers who take part in the program. A small dab on a piece of equipment is all that's required.
If that equipment is stolen and investigators are able to locate the criminal or the stolen items, all they have to do is wave a special light and they're able to trace it back to the owner. The liquid lasts for years. It can't be scrubbed off. And bleach won't take it off either.
If the SmartWater gets on the hands or clothes of the criminal, investigators are then able to place that criminal at the crime scene which results in convictions.
"Agriculture in San Luis Obispo County is a billion-dollar a year industry," said Sheriff Parkinson. "We owe it to the farmers and ranchers to help them protect their livelihoods. SmartWater CSI should go a long way to doing just that."
Deterrence is also a part of the program. Signs and stickers will designate equipment and property as being a part of the SmartWater CSI program. The hope is that thieves will see the signage at farms and ranches and decide it's not worth the risk to try and steal the equipment.
In the past four years, Deputies in the Sheriff's Office Rural Crimes Unit have responded to 77 burglaries, 146 thefts, 28 vandalism cases, and 14 stolen vehicles.