October 4, 2019
Chapter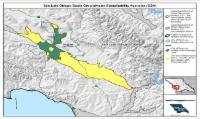 s 1 & 2 Comment Period Open Until October 31st
Groundwater Sustainability Plan (GSP) Development
The Sustainable Groundwater Management Act (SGMA) requires local governments and water agencies in California's high and medium priority groundwater basins, as defined by the California Department of Water Resources (DWR), to form Groundwater Sustainability Agencies (GSAs). The GSAs are responsible to develop and implement Groundwater Sustainability Plans (GSPs) for the sustainable management of the groundwater resources.
GSA Leadership
To comply with SGMA, two GSAs were formed to manage the groundwater resources of the San Luis Obispo Valley Basin (SLO Basin) in a sustainable manner as directed under a GSP that must be prepared by 2022 and implemented for the next 40 years to achieve sustainability:
San Luis Obispo Valley Basin - County of San Luis Obispo Groundwater Sustainability Agency
City of San Luis Obispo Groundwater Sustainability Agency
In January 2018, the City and the County entered into a Memorandum of Agreement (MOA) with the Edna Valley Growers Mutual Water Company, Varian Ranch Mutual Water Company, Edna Ranch Mutual Water Company, and Golden State Water Company to to establish the Groundwater Sustainability Commission (GSC) to serve as an advisory body to the San Luis Obispo City Council and County of San Luis Obispo Board of Supervisors in connection with the preparation of the GSP.
All meetings of the GSC are open to the public and interested parties are encouraged to attend. The GSC will make recommendations to the City Council and County Board of Supervisors (i.e., City and County of San Luis Obispo GSAs) regarding GSP development (e.g., recommendation to adopt).
Public Process for GSP Development and Chapter Review
There are ample opportunities for the public to engage in the GSP development process, such as attending quarterly GSC meetings, participating in stakeholder workshops, as well as providing comments on GSP draft chapters/sections via the online Groundwater Communication Portal or in the public meetings.
The SLO Basin GSAs formulated a process for reviewing draft GSP chapters/sections, and all interested parties have an opportunity to provide feedback on each chapter/section of the GSP at varying stages of the review process.
The individual chapters/sections will be prepared by the consulting team with input from GSA staff. After the draft chapters/sections have been approved by the GSC and recommended to the GSAs to receive and file, they will be posted on the web based Groundwater Communication Portal to begin a minimum 30-day comment period. Specific closing dates will be provided for each draft document to allow for adequate review. Public comments may be submitted through the online portal and all comments received will be available for review. The comments will be reviewed by the technical experts and be considered for inclusion in the draft GSP.
Please visit SLOWaterBasin.com to view GSP draft chapters, provide comments on chapter content, view all comments received on GSP draft chapters/sections, and register as an interested party for upcoming news, workshops and public meetings.