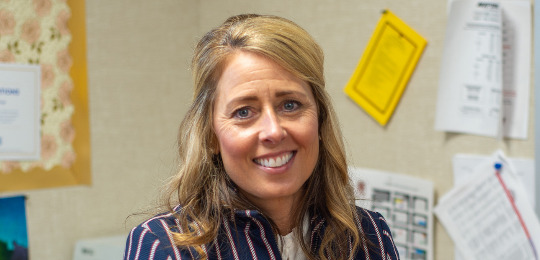 July 9, 2020
Nipomo High School Teacher Honored as California's Ag Educator of the Year
As the No. 1 insurer of farms and ranches in the United States*, Nationwide® is bringing attention to the importance of agricultural education through the Golden Owl Award. This annual award honors exceptional agricultural teachers across select states and provides financial support for their education programs.
"It's an honor to recognize outstanding teachers for their dedication to agricultural education in their communities," said Brad Liggett, president of Agribusiness at Nationwide. "This award symbolizes the hard work individual teachers put into agricultural education to help students pursue their passion for farming or other careers in ag."
In partnership with the California Farm Bureau Federation and the California FFA, Nationwide is proud to announce Rosemary Cummings, agriculture teacher at Nipomo High School in Nipomo, as California's first Ag Educator of the Year through the 2019-20 Golden Owl Award. As a result of her efforts, Cummings will receive the Golden Owl Award trophy and $3,000 in funding to help bring new educational opportunities to the program and its students.
Nominations for Cummings shed light on the true impact she's made on the students she serves.
One student wrote, "[Cummings] has been my teacher, mentor, and hero all four years of high school. My life has been impacted by her many times whether being coached by her, lifting my spirit up and instilling in me the true value of hard work."
Another nominator described her passion for helping others and encouraging positivity, saying she "consistently puts the good of the organization and the welfare of her students above all else. She is always willing to be a lending hand and never ceases to have a positive attitude."
Cummings was one of six extraordinary California teachers recognized as finalists for the 2019-20 Golden Owl Award, after more than 400 nominations were submitted by local students, fellow teachers, parents and community members. The five runners-up include: Michael Campbell, Imperial High School, Imperial; Andree' Earley, Las Plumas High School, Oroville; Cody Jacobsen, Golden Valley High School, Merced; Julie Luxon, Madera South High School, Madera; and Alissa Sarvinski, Eureka High School, Eureka. Each finalist received an individualized plaque and $500 in funding for their program.
"Almost anyone who farms, ranches or works in an agricultural business can refer back to an agricultural teacher who helped guide or inspire them," CFBF President Jamie Johansson said. "We're pleased to join with Nationwide and the California FFA in this program to highlight outstanding agricultural teachers."
Nationwide inaugurated the Golden Owl Award during 2018-19 by recognizing the contributions of 17 Iowa and Ohio agricultural teachers. Following the recognition, the Iowa Educator of the Year, Brad Taylor of Roland-Story High School, quickly saw a 30-student increase in his agricultural shop class for the fall semester—at a high school with just over 300 students.
As a result of the positive response from the communities in which Golden Owl Award nominees make a difference, the 2019-20 Golden Owl Award was expanded from two states to five: California, Illinois, Iowa, Ohio and Pennsylvania. The 2019-20 award has honored 31 outstanding agricultural educators across the five states. Nationwide plans to expand the program even further to recognize top teachers in additional states for the 2020-21 Golden Owl Award.
"Educators devote countless hours, and often their own resources, to positively impact the lives of their students," Liggett said. "As a company with deep roots in agriculture, we're proud to supply these hardworking and compassionate public servants with additional funding, and we hope to eventually expand our efforts to recognize the work of teachers all across the country."
As the top farm and ranch insurer in the country, Nationwide supports the future of the agricultural community through meaningful sponsorships of national and local organizations. In conjunction with the Golden Owl Award, Nationwide is donating $5,000 to each participating state's FFA, including the California FFA, to further support the personal and professional growth of students, teachers and advisors alike.
The Golden Owl Award is the result of a partnership among Nationwide, the California FFA, California Farm Bureau, Illinois FFA, Illinois Association of Vocational Agriculture Teachers, Farm Credit Illinois, the Iowa FFA Foundation, Ohio FFA, Ohio Farm Bureau, Pennsylvania FFA, Pennsylvania Farm Bureau and Compeer Financial.
For more information or to learn more about the California Golden Owl Award finalists, visit www.goldenowlaward.com.
*Source: 2018 SNL Financial Report. Based on statutory data.