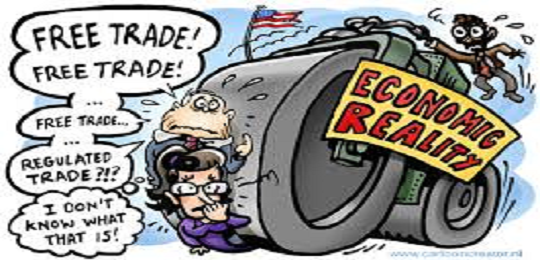 June 15, 2018
How Will a Trade Dispute Affect Your Business?
Content courtesy of California Farm Bureau Federation
In retaliation for new U.S. tariffs of steel and aluminum products, the European Union, Mexico and Canada have promised they would strike back with billions of dollars of tariffs on U.S. exports including agricultural products.
Some of the affected commodities in San Luis Obispo County could include fresh produce, grapes, and berries. Since April, China has already placed $3 billion in tariffs on U.S. products, including fruit and wine.
The European Union, Canada and Mexico—key export markets for California agricultural products—promised they would strike back with billions of dollars' worth of tariffs on a wide range of U.S. exports, including some agricultural products, in retaliation for new U.S. tariffs on steel and aluminum imports.
The U.S. announced the metal tariffs in March, but it granted temporary exemptions to the three allies in hope of negotiating new trade terms. Those exemptions expired on June 1, with the Trump administration saying trade talks with the EU, Canada and Mexico had not made enough progress to warrant any further exemptions.
The EU told the World Trade Organization last month it planned to enact tariffs on more than $3 billion worth of U.S. goods, including agricultural products such as rice, corn, dry kidney beans, cranberries, tobacco and orange juice. If approved by its 28-member countries, the additional 25 percent import duties would become effective as soon as June 20. Canada said it plans to impose tariffs on about $12.8 billion worth of U.S. products starting on July 1.
As with the proposed EU tariffs, Canada's list largely spared fresh produce, except for cucumbers, but includes foods such as ketchup and other tomato sauces, yogurt, strawberry jam, nut purees and pastes, berry and other fruit purees, orange juice, pickles, maple syrup, and prepared bovine meat and meal. Those items would be hit with a 10 percent duty.
Mexico released an official list on June 5, which included agricultural items such as cheeses, apples, potatoes, cranberries, and a number of ham, pork and sausage products. Mexico originally said it planned to levy duties on U.S. grapes and blueberries as well but did not include those products on its tariff list.
Earlier this week, China renewed its promise to impose import duties on an additional $50 billion worth of U.S. goods, including more agricultural products, if the U.S. pushes forward with potential tariffs on $50 billion worth of Chinese goods.
In the current trade dispute with the EU, Canada and Mexico, the impact to California agriculture is not fully known. Email our Government Affairs Specialist, James Green, with your concerns so that we may pass the information along to Washington