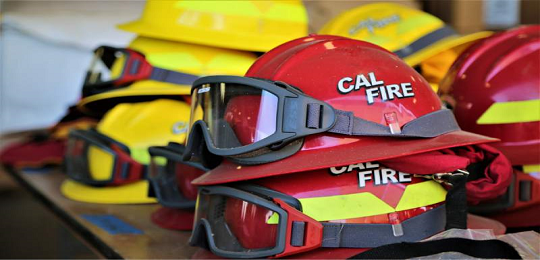 December 17, 2018
Annual Open Burn Season Starts December 12
December 12, 2018 marks the start of the 2018-19 open burn season in San Luis Obispo County. CAL FIRE burn permits are no longer required. The burn season, which typically runs through the end of April, affects the burning of residential yard trimmings in backyards and agricultural wastes. Open burn season normally closes at the end of April when local fire agencies typically predict an increasing risk of wildfires from drying brush and grass.
All burning requires a permit from the San Luis Obispo County Air Pollution Control District (APCD).
Backyard burning may only be conducted by occupants of single family or duplex dwellings outside urban and village reserve lines in rural areas on a designated "Burn Day".
Agricultural burning may only be conducted by agricultural operations that derive income from the growing of crops or the raising of animals or, vegetation, forest or range management.
APCD Burn Permit Applications are not available at CAL FIRE facilities.
A complete list of locations where you may pick up a Burn Permit Application, as well as information about renewing your permit application online, are all available on the APCD website. Mail-in Applications and permits are also available at most libraries, selected Community Service District offices, the County Agricultural Commissioner's and the APCD office.
Open burning releases smoke and air pollution that can be harmful to public health. Residents must exercise caution when conducting burning operations. There is an abundance of dry vegetation accumulated from the drought and from this year's heavy grass crop. Burning during windy or unsafe conditions frequently results in escaped fires and residents can receive misdemeanor citations and/or be billed for suppression costs. The following recommendation should be followed for safety.
Landscape debris piles must be in small 4 feet by 4 feet piles.
Maximum pile size is 4 feet in diameter.
Clear all flammable material and vegetation within 10 feet of the outer edge of pile.
Keep a water supply and shovel close to the burning site.
A responsible adult is required by law to be in attendance until the fire is out.
No burning shall be undertaken unless weather conditions (particularly wind) are such that
burning can be considered safe.
For additional information about regarding safe debris burning visit www.readyforwildfire.org/DebrisBurning or download the fact sheet. Residents are urged to seek alternatives to burning, such as green-waste disposal, chipping and composting.
For information about open burning and the downloadable applications for San Luis Obispo County, please visit the web site at http://www.slocleanair.org/rules-regulations/burning.php or contact the Air District's Compliance Division at (805) 781-5912. For Burn Day status call 1-800-834-2876.