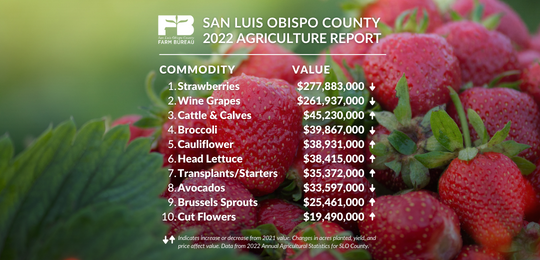 September 1, 2023
The San Luis Obispo County Crop Report for 2022 has been released by San Luis Obispo County Agriculture/Weights and Measures Department.
The Top 10 Crops are as follows:
1. Strawberries - $277,883,000
2. Wine Grapes - $261,937,000
3. Cattle and Calves - $45,230,000
4. Broccoli - $39,867,000
5. Cauliflower - $38,931,000
6. Head Lettuce - $38,415,000
7. Vegetable & Ornamental Transplants - $35,372,000
8. Avocados - $33,597,000
9. Brussel Sprouts - $25,461,000
10. Cut Flowers - $19,490,000
The Top Ten Total value was $816,183,000 which made up 75.27% of total value of agricultural commodites produced in the county. All values are reported as gross values.
Marty Settevendemie, SLO County's Agricultural Commissioner wrote the following in the letter to Karen Ross, Secretary of Agriculture for CA:
"In accordance with Section 2279 of the California Food and Agricultural Code, I am pleased to release the 2022
annual crop report for San Luis Obispo County. This report represents gross values of agricultural products
produced in the county and is not reflective of net profits nor any multipliers related to secondary economic
contributions.

Despite persistent drought and variable weather conditions, the total value of agricultural commodities produced in
San Luis Obispo County during 2022 reached a record high of $1,084,332,000. This slight, 0.22% increase over 2021
is the third time in San Luis Obispo County history in which the total commodity value exceeded the $1 billion mark,
demonstrating the importance of the diversification of our crops and the perseverance of our agricultural industry.
The fruit and nut sector was the only sector to fall in value on the year. Strawberries, while remaining the top valued
crop in the county, fell 13% to $277,883,000. Wine grapes, at the number two spot, dropped 7% to $261,937,000.
Avocado values, hard hit by drought and other unfavorable growing conditions, fell to $33,597,000 or 42% below
2021.

Vegetable production continues to be a major contributor to San Luis Obispo County agriculture with a value of
$293,656,000 which is 25.7% above 2021. The nursery industry also saw a substantial value increase as growers
maximized greenhouse capacity to produce $98,041,000 in various nursery products. Field crops, despite a reduction
in harvested acres, saw a 35% increase due to substantially higher prices for alfalfa and grain hay. The animal
industry also fared well in 2022. Cattle prices were up 16.5% making up for animals having to be sold at lighter
weights due to the ongoing drought and high costs of supplemental feed. The animal sector as a whole increased by
12% to $48,247,000.

I would like to express my appreciation to all the growers, producers, ranchers and others who contributed to this
report. Without their input, this report would not be possible. I would also like to thank my staff who put significant
time and effort into making this report as accurate and meaningful as possible."