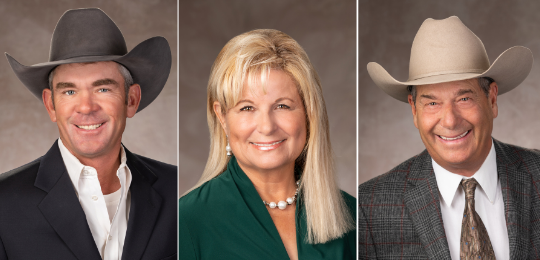 July 23, 2021
2021 San Luis Obispo County Agriculturalist, Cattlewoman, Cattleman of the Year Named
Three local farm and ranch leaders honored at California Mid-State Fair
PASO ROBLES, CA (July 22, 2021) – Local agriculture organizations recognized three San Luis Obispo County farmers and ranchers during the California Mid-State Fair's annual Cattlemen and Farmers Day at the Paso Robles Event Center on July 22.
The 2021 award recipients are:
Doug Filipponi, Agriculturalist of the Year;
Tracy Nicholson, Cattlewoman of the Year; and
Randy Baxley, Cattleman of the Year.
The awards were selected by members of the San Luis Obispo County Farm Bureau, San Luis Obispo County Cattlewomen, and San Luis Obispo County Cattlemen's Association.
"These three individuals have made incredible contributions to our San Luis Obispo County agriculture community," said Farm Bureau Executive Director Brent Burchett. "Our county's $2.5 billion agricultural economy is built upon the hard work of farmers and ranchers, and today we are proud to recognize a few of our very best."
Continue reading below for more information on the winners.
Download individual photos of the winners: Randy Baxley-Cattleman, Tracy Nicholson-Cattlewoman, Doug Filipponi-Agriculturalist. Please attribute photos to Tom Meinhold Photography.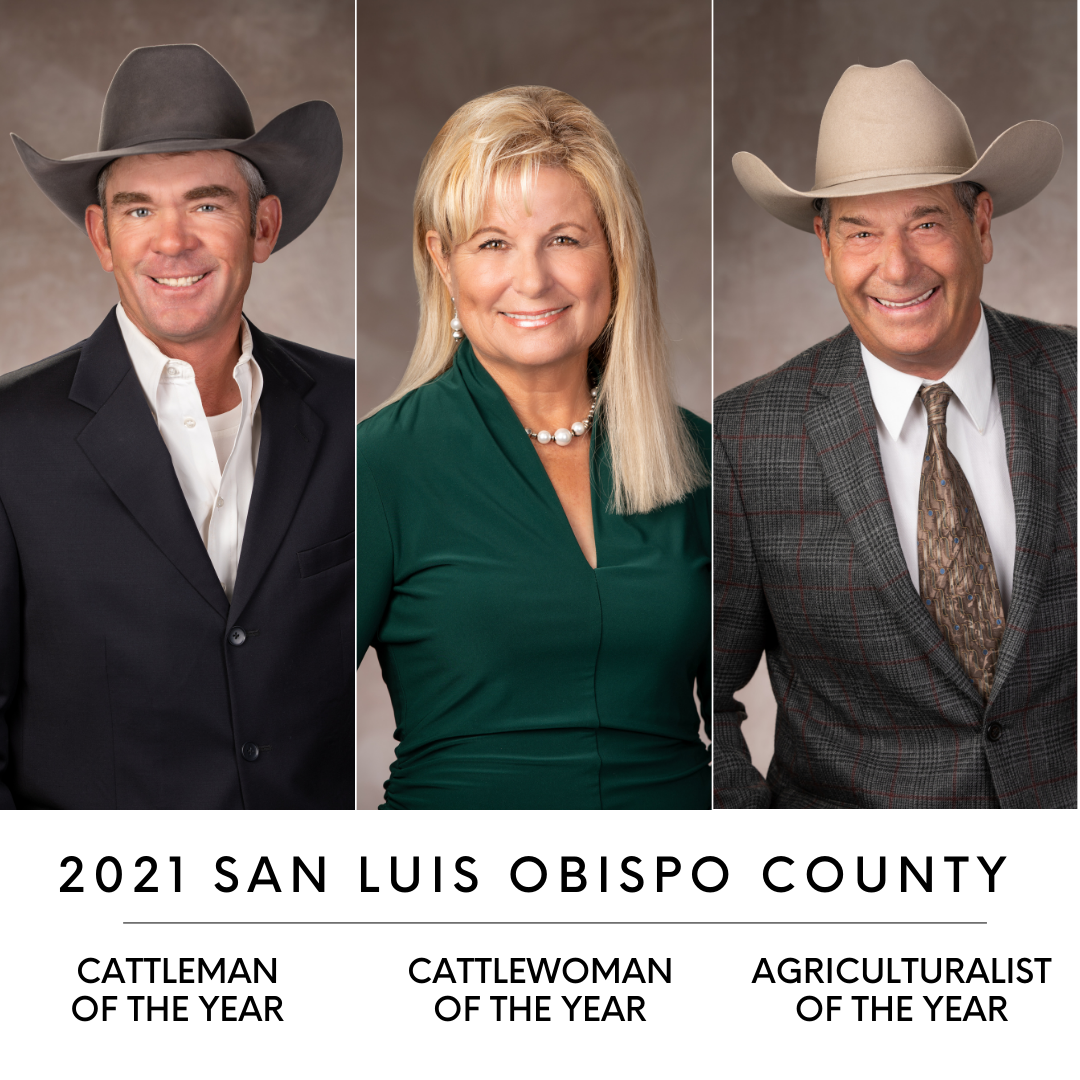 Portraits by Tom Meinhold Photography.
San Luis Obispo County Farm Bureau
2021 Agriculturalist of the Year
Doug Filipponi
San Luis Obispo County Farm Bureau has selected Santa Margarita winegrower, cattleman and business leader Doug Filipponi as the 2021 Agriculturalist of the Year.
The Agriculturalist of the Year award recognizes distinguished success in the agriculture industry and a lifetime of dedication to advancing San Luis Obispo County's rich farming and ranching heritage.
Born in Paso Robles in 1952 as the second of four children to Clement (Clem) and Helen Filipponi, first-generation Californians from Swiss-Italian immigrants, Doug's lifelong love of farming and ranching began growing up on the family's dairy operation.
In 1959, the family dairy moved to Atascadero where Doug was raised from age seven until he graduated from Atascadero High School in 1970 and left home to attend California Polytechnic University, San Luis Obispo.
As fate would have it, Filipponi would get the opportunity 40 years later to become a co-owner of the historic Santa Margarita Ranch located just a mile away. It was also at the dairy that a young Filipponi met two of his future business partners, neighbor Ned Thompson and Karl Wittstrom, whose father supplied hay to the Filipponi dairy.
Like so many San Luis Obispo County agriculture leaders, Filipponi credits his work ethic to being raised on the dairy and watching the long hours put in by his mother and father to earn a living. Reflecting on his upbringing and how it shaped his later career, Filipponi explained, "If you're raised on a dairy, it's like everything else is easy."
Two years before he would attend college, Filipponi's father sold the dairy in 1968 and then purchased The Hitching Post Liquors in Atascadero in 1970. While the family business changed, the expectation for family members to help support it had not. "My dad had been looking at the underside of a cow from the time he was 10 years old, so working at the store wasn't really his thing, and so at age 18, I was managing the store."
His time at Cal Poly was balanced between classes on real estate, agriculture, and business while working at his father's store, but the most important thing he found at Cal Poly was his wife, Kathy. The couple married in 1972 and would later have two children, Jeff and Kristin, and three grandchildren Cash, Hailey and George.
A Leader in the Atascadero Community
As his time at Cal Poly drew to a close in 1973, Doug started helping his longtime friend and neighbor Ned Thompson with the Thompson family well drilling business. It was while Ned and Doug were deer hunting that September that the two put the idea together for a business partnership. Three months later, Filipponi-Thompson Drilling was born.
Their timing proved to be just right. In 1978, the company expanded operations to serve areas outside of San Luis Obispo County. Vintners were beginning to discover the Paso Robles region as a "beautiful place where you could grow world class grapes for a fraction of the cost as Napa and Sonoma." Greater demand for wells across the area helped grow the business, and the company was able to provide more jobs and become a pillar of the local community through support of philanthropic causes and civic organizations.
"We were always big on giving back to the community because we believed the community is what made us who we were," Doug explained. He is proud to support local youth, whether through purchasing livestock projects at the California Mid-State Fair or their work to help start LIGHTHOUSE Atascadero, a nonprofit that strives to prevent drug and alcohol abuse. Filipponi & Thompson Drilling was recognized as "Business of the Year," and Doug is a past "Atascadero Citizen of the Year."
While helping lead the drilling company, Filipponi was also farming alfalfa on the side at his farm in Shandon. It was there in 1989 that they transitioned to growing varietal wine grapes, planting 300 acres over 10 years. Over the next decade, they partnered with the Cagliero and Wittstrom families to expand their vineyard acreage by acquiring a neighboring property in Shandon and were managing 750 acres by 1999.
A Champion for Paso Robles Wine
Doug and Kathy began to amass a small cow herd, and in 1999, they purchased the Vaquero Water Ranch near Creston. The 3,000-acre ranch was formed in the 1860s, and the home on the property where the Filipponis still live today was originally built in 1872. Opportunity knocked at the door in 2001, and though they were not looking to expand, a once-in-a-lifetime opportunity emerged to purchase the Santa Margarita Ranch when longtime friend Rob Rossi offered to sell half of the ranch. Filipponi and Karl Wittstrom partnered with Rob Rossi in the historic property in 2001. A few years later, the trio created Ancient Peaks Winery.
Filipponi's wine roots run deep. "My Swiss-Italian grandfather always had a gallon jug of local homemade wine under the table growing up," Filipponi recalls. "So later when we started growing grapes, we made our own wine from our grapes within my own grandfather's old 'tina' we called it, the old wooden tank. We were making Cabernet for several years, every year, in that old tank, which was part of the family since 1910."
Not unlike his other business ventures and community service, Filliponi went "all in" on supporting the local wine industry. He was an early leader in the Paso Robles Vintners and Growers Association, and later the Paso Robles Wine Country Alliance. Doug currently serves as president of Paso Robles Cab Collective, former president of Paso Robles Wine Country Alliance, and former chairman of the Paso Robles Wine Festival. He continues to represent the local wine industry in numerous capacities, including as a vice chairman and current board member of Farm Credit West.
"It was the first business I was in where your competitors would actually help you," Doug recalled. "We never consider it competition when you're helping another Paso Robles vintner. We're all in this together. Our goal has always been to raise awareness to Paso Robles, and we have been doing a pretty good job of it. Folks are finding Paso from all the effort."
Today, Filipponi serves as managing member of Margarita Vineyards, LLC, and has been co-owner and chief operating officer of Ancient Peaks Winery in Santa Margarita since 2006. Doug was named "Wine Industry Person of the Year" by his wine industry peers at the 2006 California Mid-State Fair in Paso Robles.
Filipponi credits many mentors for his success, both personal and professional. "We used to do potlucks with the Becketts (Doug and Nancy) and some of the old timers. Herman Schwartz was another guy that was a real mentor to us in the grape business, as well as Howie Steinbeck and Hank Ashby. I learned a lot from those guys. Hank Ashby was the manager out at French Camp, and I could call him and he would help us."
Doug is grateful for all the family members, colleagues and business partners he's had over his career. "Ned and Connie Thompson, my parents and family members, influencers in my life like Pete Cagliero, Dino Boneso and Frank Wicks. Those guys were not old enough to be my dad but older than me, so they were almost like an uncle. I learned a lot from those guys. My parents taught me what hard work looked like, and I also want to credit my father-in-law Jim Denio and his wife Marilee. Jim taught me an awful lot over the years. He gave me some major guidance as to how to direct the abundance of energy I had. Of course, the greatest influence on my life and the source of my happiness is my wife, Kathy."
Looking Ahead
Doug is optimistic about the future of Paso Robles wine. "I see us in the next 20 years just getting better at what we do. Being better farmers, more efficient, using more of the sustainable policies that we've learned over the last 20 years, and I believe wineries will continue to improve their products and make better wines out of the grapes that are grown here."
Despite challenges from regulations, market volatility and the weather, Doug still believes in the American farmer. "Agricultural people are fighters, and they're going to fight all the way to the end, and in a good way. Everyone needs to realize that for people involved in agriculture, it is not a game. This is their lifestyle, it is not a business. I think it's the fighter in the agriculturalist, that's the best thing we have going for us."
Filipponi believes that organizations like Farm Bureau are essential to defending our freedom to farm and ranch. "We've been involved all these years because we believe that the Farm Bureau is a center of strength for agriculture if we all stick together. Elected officials are supposed to work for us, we don't work for them. We must stay together and come up with better solutions, not just complain about what law or rules are being proposed. I hope we can convey the message that if you can't make a profit, you're not sustainable. Having local agriculture matters. We cannot and shouldn't import everything from other countries. We've got to keep our people involved in agriculture and in business."
For all his obligations as a chief operating officer and businessman, Doug Filipponi is still just a farmer and rancher at heart. "I love going out and riding through the cows. Sounds kind of silly, but riding through the cows and checking to make sure they are in the best health is what I enjoy. I love driving through the vineyard, checking on the health of the vineyard and the stage of growth the grapes are in because every year is a new year, it's like getting a whole new crop of kids, you know, you get to re-raise them all over again."
Doug's advice to young people starting out their careers is to "stop thinking about getting rich" and to focus on what makes you happy. "You've got to do what you have a passion for, and you've got to work twice as hard as the person next door. You work twice as hard as them and you are passionate about what you do, the money just comes. But if you start out trying to make money, you're going down the wrong path."
San Luis Obispo County Farm Bureau has given the Agriculturalist of the Year award annually since 1988, making Filipponi the 33rd person to receive this honor.
San Luis Obispo County Cattlewomen
2021 Cattlewoman of the Year
Tracy Nicholson

San Luis Obispo County Cattlewomen have selected Tracy Nicholson as the 2021 Cattlewoman of the Year.
A central coast native since 1969, Tracy Nicholson had a passion for the ranching way of life from a young age. "Words cannot describe the honor I feel in my heart and soul to be selected for this prestigious award," Tracy said. "My fellow Cattlewomen are my peers and my friends. They are strong, kind, hardworking, and honest. I owe those I know today and those who are now gone for this distinguished honor."
Born in Fresno, California, Tracy and her brothers Nick and Steve learned the value of hard work early on from their mother Sidney and father Dorsey. Her father had a plumbing business, and her mother ran her own beauty shop in Fresno. Tracy said her parents taught her "how to have a solid work ethic, to love your family and strive to make your dreams come true."
Tracy first became interested in agriculture at the age of nine when she asked a neighbor if she could help feed their horse. It was not long before she was riding that same horse, discovering her passion for horses and the ranch life.
In 1969, her family moved to Morro Bay to join her grandparents Nick and Shirley Tancredy. Her grandfather was an Italian immigrant who enjoyed having large family gatherings with all five of his daughters' families. "These gatherings were loud and fun with the best pasta ever."
After a few years on the Central Coast, Tracy's family leased and boarded horses at a ranch just outside of Morro Bay. Her father went to work at Diablo Canyon as a pipefitter, and her mother opened up a business, "Sidney Lee and Company Hair Parlor." The value of hard work was instilled early by her parents. "My dad would go to work every day, and when he came home, we would clean stalls and tend to the ranch."
Tracy attended Morro Bay High School from the 7th through 12th grade. At Morro Bay High, she became involved in FFA, taking steers to the fair, participating in public speaking contests and serving in leadership roles, including chapter president. Tracy has fond memories of her youth. "Going to school in Morro Bay and riding my horse Satin on the ranch was a feeling I never wanted to end."
It was in high school where she met her future husband Bill Nicholson, a fifth-generation rancher and son of Bill and Myrtle Nicholson. "To me he is everything a husband and father should be. He is a true cowboy—patient, kind and a perfectionist. Being with him was all I had ever hoped for. I thank God every day for him and our life together."
The Nicholsons married in 1978 and had three children, Nicole, Chad, and Clint. Nicole Nicholson Stainner is a Doctor of Educational Psychology, and her husband Tom Stainner is a pilot for Delta Airlines. Tracy's oldest son Chad Nicholson is a detective with the San Luis Obispo Sheriff's Department, and Chad's wife Christine Nicholson is a registered nurse. Her youngest son Clint Nicholson is the Regional Sales Director for OutTech, a representative group for the outdoor industry, and his wife Brianna Nicholson is a buyer for Riding Warehouse. The Nicholsons have four grandchildren, Case (5), Caylee (4), Camryn (2) and Ford (1).
"Watching our grandchildren grow up learning to ride knowing it was in your dreams, does something to your soul," Tracy said. "When you get that feeling, you know you are very blessed. All of our kids grew up on a horse. Cattle ranching is our livelihood, and this is what we do. On the ranch we needed our kids' help, and this made for a strong family bond and close relationship."
With ranches in Morro Bay and Cayucos, Tracy said their lives were very busy, but satisfying. "Our children still played sports, but when it was time to gather cattle, work the cattle, or repair fence lines, those came first. There were a few times that the kids would arrive a little late to their games, but they knew the ranches were our first priority. They understood that, and they enjoyed helping."
While promoting the beef industry with the SLO County Cattlewomen, Tracy worked at her mother's salon. When their youngest son started kindergarten, Tracy went back to school. Growing up with a grandfather that spoke Italian, she decided to take Spanish classes at Cuesta College. "The Spanish language just came easy to me." She was hired by the San Luis Coastal Unified School District as a bilingual aide in 1992.
Throughout her 27 years with the district, she worked for 11 principals from kindergarten through 12th grade. The last 20 years of her career were spent at Morro Bay High School. Tracy was recognized as "Employee of the Year" in 1994.
Tracy said her career path was meant to be. "I find no greater pleasure than helping students achieve their goals. I worked with some of the finest principals and teachers in education. They not only taught the students I worked with to be better, they challenged me and made me better."
Tracy joined SLO County Cattlewomen in 1998. She was a director for three years, volunteering to cook and teach beef recipes to senior citizens in assisted living facilities throughout San Luis Obispo County as part of the "Beef for Seniors" program. She also helped organize the Great AGVenture program where fourth graders spend the day learning about agriculture and the beef industry.
Nicholson serves as the Cattlewomen's first vice president and has chaired the scholarship committee for four years. Prior to this, she served as chairperson for Agriculture in the Classroom, where she created and implemented the idea of bringing speakers to local high schools to talk about career opportunities in agriculture. "It made a huge difference to bring these different careers one at a time to the classrooms," Tracy explained. "This put a face to the career, and it became real to the students."
Though she is now retired, Tracy continues to support local students pursuing careers and endeavors in the beef industry. "As I move through my years as a wife, mother, grandmother and cattlewoman, I know that this is where I belong."
San Luis Obispo County Cattlewomen are proud to recognize the 2021 Cattlewoman of the Year, Tracy Nicholson.
San Luis Obispo County Cattlemen's Association
2021 Cattleman of the Year
Randy Baxley
Born in San Luis Obispo in 1967 to Duane Baxley and Marla Barron, Randy Baxley literally grew up at Templeton Livestock Market with his dad as the owner and auctioneer.
After graduating from Paso Robles High School, Randy attended West Hills College and then went on to attend California Polytechnic State University, San Luis Obispo, while rodeoing and majoring in Agricultural Business.
During his college career, Randy took a year off and competed professionally in calf roping and team roping before returning to Cal Poly to finish up his degree. In the spring of that year, Randy took an internship in the San Joaquin Valley with a citrus packing house. When he was finished for the day, he would attend several livestock auctions in the area, where he would buy and sell cattle to earn some extra money.
In the summer of 1993, Randy attended Missouri School of Auctioneering and returned home and sold at several livestock auctions where he honed his skills as a second-generation auctioneer, while still attending Cal Poly.
In 1994, a few credits short of graduating, Randy had the opportunity to lease a livestock market facility in Visalia, California. Randy was able to secure the lease and became the owner-operator and auctioneer of Visalia Livestock Market.
From the first day at the helm at Visalia Livestock, Randy's goal has been to serve the cattlemen and cattlewomen of California and market their cattle through true price discovery.
In 2001, Randy had the opportunity to lease Templeton Livestock Market in Templeton, California, when the previous owners decided to retire from the business. Randy went on to manage two livestock markets, selling at Visalia every Wednesday and Templeton every Saturday, right up until October of 2014 when the property owners sold the land where the livestock market was housed.
Determined to continue providing a solid marketing option for Central Coast producers after the market's closing, Randy built the Templeton Livestock Market Receiving Yard on Ramada Drive in Templeton which, along with the Buellton Receiving Yard, continues to serve local producers today.
When Templeton Livestock Market swung its final gate in the last auction, Randy had this say: "To my family, the auction market business is our way of life. We genuinely love the lifestyle. We have been truly lucky to be able to serve the community and the cattlemen and cattlewomen of the area in a marketing capacity. I think the livestock market has been a staple for the community of Templeton. It has been a landmark that has outlasted generations."
Randy and his wife Beth were raised in San Luis Obispo County with deep roots in the cattle industry and fond memories of Templeton Livestock Market. The couple enjoyed watching their daughters, Bailey (20) and Taylor (14), grow up around the business.
In 2001, Randy started his journey in internet cattle marketing with Roundup Internet Livestock Marketing and has continued to service cattle producers with a marketing avenue for load lots of cattle direct from the ranch.
The Baxleys offer full-service marketing – off the ranch sales for load-lots through Roundup.com internet marketing, plus live sales in Visalia every Wednesday. Randy has also put great importance on providing local cattle producers opportunities to buy quality bulls at his yearly bull sale and replacement female sale and annual bred female sales.
Randy has been a major supporter of the San Luis Obispo County Cattlemen's Association throughout his career. He has sponsored a multitude of events and is proud to carry on the tradition of the Jim Parsons Memorial Sale, now called the Parsons/Nock Memorial Sale with the passing of longtime San Luis Obispo cattleman Dick Nock. A portion of the commission collected is gifted annually to San Luis Obispo County, as well as Santa Barbara and Monterey Counties.
He is involved in California Livestock Auction Marketing Association, California Cattlemen's Association as a past marketing committee chair, and Tulare County Cattlemen Association as a board member and past president. He was honored as Tulare County Cattleman of the Year in 2011. Randy is also a longtime member of the National Cattlemen's Beef Association.
In 2012, the California Young Cattlemen's Committee honored the Baxleys as its Supporter of the Year for their efforts educating youth and donating their time and talents to benefit the organization.
Randy has served as the auctioneer at the California Mid-State Fair since 2000, where the Baxleys and Visalia Livestock Market staff have helped Central Coast youth market their 4H and FFA market animals and replacement females.
"I enjoy giving back to the exhibitors at the California Mid-State Fair," Randy said. "This fair was part of my life growing up in San Luis Obispo County every summer."
During the California Mid-State Fair's annual dinner in 2018, the Baxleys were honored as the Western Fairs Association Blue Ribbon Award recipients for their service to the junior livestock and replacement heifer auctions. The award recognized and honored the husband-and-wife team for providing outstanding support to the fair industry.
Randy said he is honored and greatly humbled to receive this recognition and is awed by the company he is in with the past honorees.
San Luis Obispo County Cattlemen's Association has given the Cattleman of the Year award annually since 1963, making Baxley the 58th person to receive this honor.
###