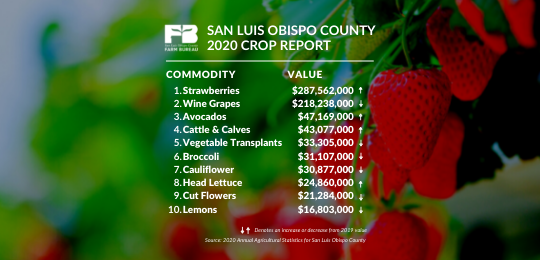 July 28, 2021
The San Luis Obispo County department of Agriculture/Weights & Measures has released the 2020 production statistics for the local agricultural industry.
The total gross crop value for 2020 is $978,675,000. The overall value of agricultural production in 2020 decreased by less than 1% compared to 2019. Martin Settevendemie, County Agricultural Commissioner/Sealer, cautioned the statistics only represent commodity gross values and do reflect net profits received by producers. Also, reported values do not include multipliers related to secondary economic benefits to the community.
The top ten commodities ranked by value for 2020 were:
Strawberries
Wine Grapes
Avocados
Cattle and Calves
Vegetable Transplants
Broccoli
Cauliflower
Head Lettuce
Cut Flowers
Lemons
Read the full 2020 Crop Report here.
Also, click here to read the 2019 Economic Impact Report of SLO County Agriculture.