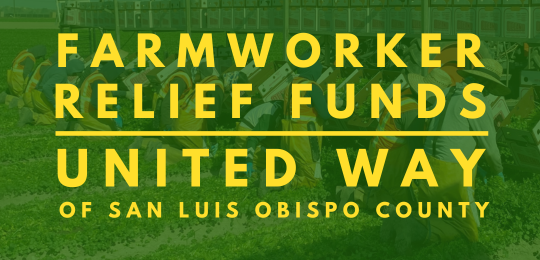 October 11, 2023
United Way is administering the USDA's Farm & Food Worker Relief program [FFWR] to provide COVID relief payments ($600 each) to farmworkers in SLO County. We've already distributed 1,560 of the 4,000 payments available. All front-line workers (not supervisors) are eligible if they earned a paycheck anytime during the pandemic (March 2020 to May 2023).
This is the same program our local Farm Bureau has helped us publicize.
There is absolutely no cost to you or to farm workers. The bilingual team will travel to farms and vineyards to enroll folks so it's convenient for the farm and the workers. We have seen these relief payments make a huge difference in the lives of workers, and we believe your company will be viewed in a very positive light for making it easy for workers to enroll.
We're hoping you can help us schedule some opportunities at all your locations so we can provide folks with this valuable benefit! Please contact Nancy Rojas at 805-541-1234, ext. 4 or nrojas@unitedwayslo.org.
If you have any questions about the program, please contact Doug Yeiser, Interim CEO, United Way San Luis Obispo County: dyeiser@unitedwayslo.org.
We look forward to hearing from you soon!