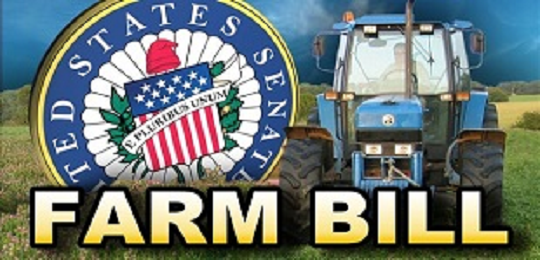 December 21, 2018
Updated - Farm groups welcome passage of 2018 Farm Bill
Courtesy of California Farm Bureau Federation
Praising the stability and expanded safety nets the 2018 Farm Bill will provide to U.S. farmers and ranchers, farm groups celebrated bipartisan passage of the farm and nutrition legislation.
Passage of the Agriculture Improvement Act of 2018 last week came after two years of deliberation and months of negotiation to reconcile key differences between the House and Senate versions of the bill.
House Republicans and President Trump had sought to tighten work requirements for food-stamp recipients, but those provisions were ultimately left out of the bill. The Senate approved the final bill by 87-13 and the House by 369-47.
President Trump signed the bill Dec. 20, calling it "a bipartisan success."
"Through fires, floods and freezing weather, we will always stand with American farmers," Trump said.
Farmers called passage of the farm bill critical at a time when they are struggling with declining commodity prices, trade disputes and regulatory uncertainty. The legislation directs agricultural policy and authorizes funding for key farm programs for the next five years.
Given its provisions for nutrition programs as well as farm programs, California Farm Bureau Federation President Jamie Johansson said the farm bill "is important in the city as well as on the farm."
The final package makes a number of improvements to conservation programs, including the Environmental Quality Incentives Program, which will see increased funding to $2 billion by 2023. It maintains the Conservation Innovation Grant Program and the Conservation Stewardship Program, and includes additional funding for the EQIP Air Quality Initiative. The legislation also restores funding for the Agricultural Conservation Easement Program at $450 million a year and provides more flexibility for matching funds. It makes the Regional Conservation Partnership Program its own program with its own funding, rather than having it be part of EQIP.
"The farm bill also invests in agricultural research, including studies of ways to mechanize more on-farm tasks," Johansson said. "Farmers and ranchers face chronic problems in hiring enough qualified people, so this sort of technological research will be closely watched."
He noted the final bill continues specific programs for fruit, vegetable, nut and nursery producers, as well as initiatives to benefit organic farming. It also enhances trade programs to encourage exports of American farm goods.
Specifically, the legislation dedicates $80 million annually for the Specialty Crop Research Initiative and an additional $25 million a year through a trust fund focused on combating the citrus disease huanglongbing.
The new farm bill also provides $75 million annually for programs that fight invasive pests and diseases, with the goal of enhancing its funding in five years by $7.5 million to fund the National Clean Plant Network. It maintains $85 million a year for the Specialty Crop Block Grant Program.
To promote agricultural trade, the new farm bill increases funding to the Market Access Program of at least $200 million annually and funds the Technical Assistance for Specialty Crops program at $9 million.
The legislation calls for permanent funding of $50 million a year by 2023 for organic research—more than double the current $20 million funding level. It also provides funding for the organic certification cost-share program.
With destructive wildfires fresh on Californians' minds, Johansson said CFBF is disappointed the final bill did not do more to improve wildfire prevention and forest management.
"Given the terrible impact of wildfires in California and elsewhere in the West, we need to manage our forests and wildlands better, and we will be advocating for that in the next Congress," he said.
Though the farm bill does not include "categorical exclusions" to environmental review laws for logging projects, it does reauthorize Good Neighbor Authority until 2023. That allows the U.S. Forest Service to enter into cooperative agreements or contracts with states, tribes and counties to provide more localized forest management and timber removal on federal forests.
In addition, the legislation creates a framework for Forest Service cooperation with water providers and allows watershed work to proceed under one document required under the National Environmental Policy Act. It also creates a pilot program to reduce hazardous fuels near utility rights of way and requires a report within six months on fuels treatment, fire risks and timber sales from federal lands.
The new farm bill reauthorizes commodities, risk management and disaster programs such as the Livestock Indemnity Program; Livestock Forage Program; Emergency Assistance for Livestock, Honey Bees and Farm-Raised Fish; and the Tree Assistance Program. It increases yield plugs and yield-trend adjustments to Agriculture Risk Coverage and provides a nationwide yield update for Price Loss Coverage beginning with the 2020 crop year.
"Farm and ranch families in particular will find a good degree of risk-management support they need to help them weather the prolonged downturn in the agricultural economy that many of us are facing," American Farm Bureau Federation President Zippy Duvall said.
The bill allows dairy farmers to protect their businesses from low milk prices by allowing them to enroll in Livestock Gross Margin insurance, the Margin Protection Program (now called Dairy Margin Coverage) and the new Dairy Revenue Protection insurance policy developed by AFBF. In addition, the bill reduces premiums on catastrophic coverage levels for larger producers.
The compromise bill expands the Whole Farm Revenue Protection Program, which allows all commodities to be insured. There's also a new animal disease prevention and management program aimed at protecting against catastrophic disease threats.
The new farm bill legalizes the production of hemp as an agricultural commodity and removes it from the list of controlled substances. It combines the Farmers Market and Local Food Promotion Program and the Value-Added Producer Grant Program under one umbrella called the Local Agricultural Market Program, which is funded at $500 million over 10 years. In addition, the legislation provides $10 million in mandatory funding for urban and indoor farm production, including the creation of an Urban Agriculture and Innovative Production office at USDA.