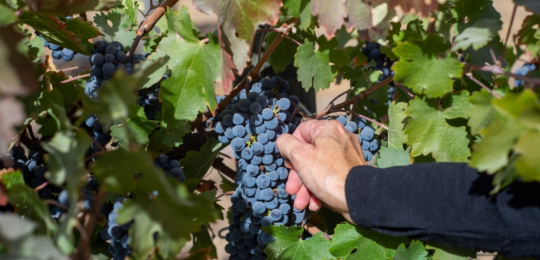 August 28, 2020
CalPoly Releases Economic Impact Study of Proposed Groundwater-Use Cuts in Paso Robles
Paso Robles's economy could lose up to $458 million annually and 3,300 jobs.
Aug. 31, 2020 (Paso Robles, Calif.) – The proposed blanket cuts in groundwater use for farming, as outlined in San Luis Obispo County's current sustainability plan, could reduce Paso Robles' economy by $458 million annually, and erase 3,351 fulltime jobs across all sectors, according to a new study conducted by CalPoly.
Additionally, the water cuts in the Paso Robles Subbasin could wipe out a quarter of Paso's wine industry, or $216 million annually, the study says. The blanket cuts could also squeeze out other non-grape crops, severely impacting Paso's diverse agriculture economy and jeopardize the viability of smaller family farms.
The CalPoly study was presented by its authors on a panel discussion during last week's Central Coast Insights conference hosted by Wine Business Monthly. The annual conference is a series of educational seminars addressing the economic and financial issues, challenges and trends that affect the vintners, wineries and grape growers of the Central Coast wine industry. Wine Business Monthly also published a story about the study.
The state's Sustainable Groundwater Management Act requires California's 127 "critically overdrafted" groundwater basins be sustainable by 2040. Thanks in part to long-term drought conditions, the Paso Robles Subbasin is one of the subbasins deemed critically overdrafted.
The county's sustainability road map, called the Paso Robles Subbasin Groundwater Sustainability Plan (PRGSP), proposes only sweeping cuts for irrigated agricultural use beginning as early as this year. That plan, however, never included an economic impact analysis of the cuts. The research study was conducted to fill that void.
The study's data outlines just how integrated the Paso wine and agriculture industries are to the entire local economy. From winery to hospitality jobs, from gas stations to local lending banks, if Paso's wine and grower region are dealt a significant economic blow, it will reverberate through the entire community.
While sustainability must be achieved by 2040, the independent study shows that if alternative plans aren't explored, the blanket cuts could prove devastating to Paso's wine and tourism industries, irrigated agriculture as a whole, and could cripple the overall local economy.
"The economic implications of water reductions are sizable and would cause a restructuring of the local business environment," write the study's co-authors, Lynn Hamilton, Ph.D., and Michael McCullough, Ph.D., both professors of Agribusiness at CalPoly-San Luis Obispo. "This analysis may provide impetus for local officials to pursue alternatives for additional water supplies and find creative solutions to pursue groundwater sustainability."
What's more, the economic impact study was finalized shortly before the COVID-19 crisis struck. Given the economic impact of the crisis and the region's significant unemployment, enacting drastic water-cutting measures could prove even more disastrous to the economy and further hamper for Paso's rebound.
"Everyone knows how important it is that we achieve groundwater sustainability," Randy Diffenbaugh, of Diffenbaugh Farming, said during last week's Central Coast Insights panel discussion. "This study shows just how vital it is – and presents a great opportunity – to explore options that will sustain both our precious resources, and Paso's economy."
For more information and interview requests, please contact, Mike Dawson mike@solterrastrategies.com.
About The CalPoly Study
The full study is available for public viewing on the CalPoly Digital Commons. The study was sponsored by Estrella- El Pomar Creston (EPC) Water District, Farm Credit West, Paso Robles Wine Country Alliance, San Luis Obispo County Farm Bureau, Shandon-San Juan (SSJ) Water District and Travel Paso. Additionally, the authors acknowledge the cooperation of Martin Settevendemie, Agricultural Commissioner of San Luis Obispo County.