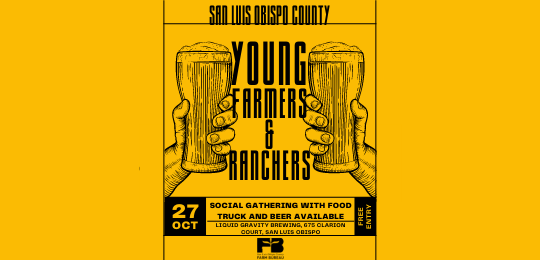 October 19, 2021
October 27, 2021 Young Farmers & Ranchers Social - Everyone's Welcome!

Are you a young professional involved in agriculture? On Wednesday, October 27, come socialize with local farmers, ranchers, students and young professionals who share your passion for agriculture. We will be gathering at Liquid Gravity Brewing Company in San Luis Obispo, food and beer will be available for purchase.

This social is hosted by San Luis Obispo County Farm Bureau, everyone is welcome! We'll give a short update on what's going on with our organization and how you can get more involved, but the main agenda item is socializing and having a good time!