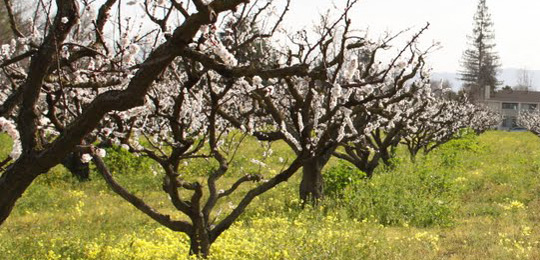 February 21, 2018
Courtesy of California Bountiful
With color reminiscent of a rose-hued sunset, sublime honey-like flavor, royal roots and rave reviews, the Blenheim apricot
has a lot going for it. It is also disappearing from California's bountiful orchards. California Bountiful explains why.

Blenheims were grown in Europe nearly 200 years ago and flourished in the garden at Blenheim Palace in England, birthplace of Sir Winston Churchill. They arrived in California in the 1880s and production spiked during the World War I era, after a stoppage of imported dried fruit from Europe. The largest farming areas for the variety were the Sacramento and Santa Clara valleys.
Experts say urban growth and lower priced imported fruit from Turkey are the big reasons that the California Blenheim is on the decline.
The 32,000 tons of Blenheims produced in 1988 dropped to 4,000 tons last year, according to Bill Ferriera, president of the Apricot Producers of California, and other industry data. Ferriera said Blenheims account for less than 2 percent of overall production, and the number is expected to dwindle further as more trees may soon be uprooted.
"It's just about gone," he said.
This development is sad news to those who savor the fruit.
"Blenheims are my favorite apricot," said chef, food writer and TV personality Dorothy McNett of Monterey, who offers classes centered around many California farm specialties, including apricots. "They are so absolutely delicious to eat right out of hand when fresh. They are perfectly balanced with sweetness and acidity. When dried they make a yearlong, wonderful food product."
The small handful of commercial Blenheim apricot growers say that, despite the odds, they will try to keep this fruit from becoming extinct in the Golden State.
"We've become a niche with the Blenheim apricot vanishing," said Mari Rossi, who with her husband, Jim, and family grows about 90 acres of Blenheims at B&R Farms in San Benito County (www.brfarms.com). "We are holding on to this heritage. As a family, our roots are very deep here. It means a lot to share this wonderful piece of stone fruit."
"It's the pinot noir of apricots," said farmer Andy Mariani, who has a rare Blenheim orchard in Santa Clara County. "It has a complex flavor and only reaches its perfection in certain climates. It has a perfect balance of sweetness and acidity, aromatics and true apricot flavor. When they both reach perfection, everybody celebrates.
"I grew up with this fruit," he said. "It's finally getting its fame, but it's too little too late."
More reading
In 1994, the City of Sunnyvale preserved ten acres of Blenheim apricot trees to celebrate the important contribution of orchards to the early development of the local economy. Click here to find out how and when to visit the park.