October 3, 2020
SLO County Farm Bureau's 98th Annual Meeting of Members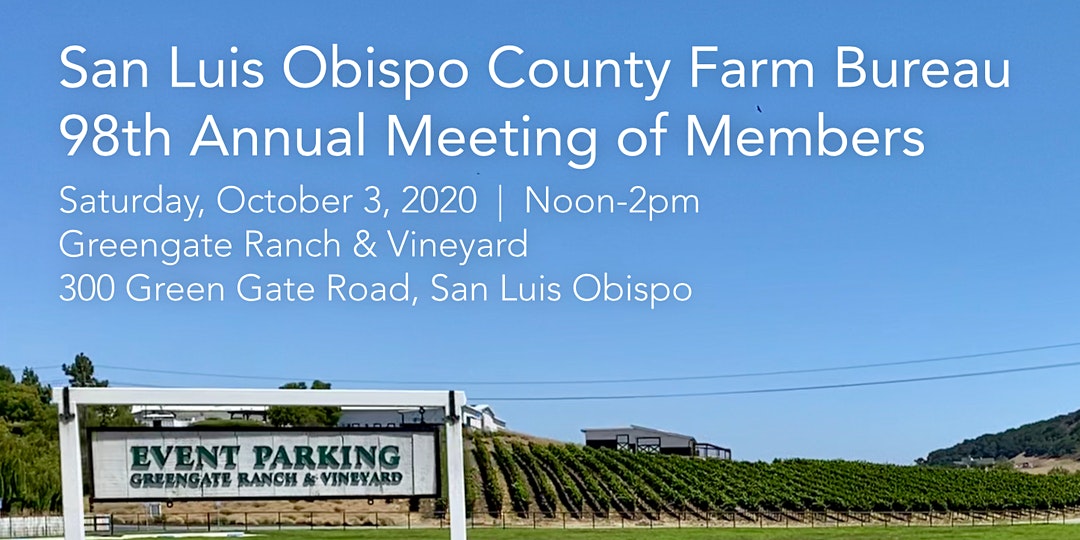 Join us for a socially-distant drive-in style Annual Meeting on October 3rd! Thank you to our generous sponsors, Farm Credit West and Nationwide.
Just like the drive-in, you can listen to our program over your vehicle's FM radio. Pick up an an artisan boxed lunch from SLO Provisions as you enter, find a parking spot and enjoy the show. Feel free to eat in your vehicle or bring your own lawn chairs to enjoy it 'tailgate' stye from Noon-2pm at Greengate Ranch & Vineyard in Edna Valley. We will be in the grass parking lot of Greengate located at 300 Green Gate Road, San Luis Obispo.
The deadline to purchase your tickets is September 24. Tickets are $25 per person.
Agenda for SLO County Farm Bureau's 98th Annual Meeting of Members
Welcome and Call to Order, 2020 Year in Review
Brent Burchett, SLO County Farm Bureau Executive Director
Business Meeting and Installation of Officers
Hilary Graves, SLO County Farm Bureau President
Directors from Nominating Committee:
President Hilary Graves;
Vice President Jeff Buckingham;
Vice President Randy Diffenbaugh;
Secretary/Treasurer Sarah Kramer;
Past President Anna Negranti;
District 1 Paul Clark;
District 2 Ray Wiebe;
District 3 Matt Merrill;
District 4 Tom Ikeda; and
District 5 Jeff Buckingham
Presentation of Awards
Agriculturalist of the Year
Farm Bureau Freddy Award
Business of the Year
Heritage Award
Adjournment at 2pm
OPTIONS TO RSVP BY SEPTEMBER 24
To purchase your tickets online with a credit card click here.
You can also call the office at 805-543-3654 and RSVP with your name and number of guests. You can mail a check to our office (4875 Morabito Place, San Luis Obispo, CA 93401) or you can deliver a check to us in person on October 3 at the meeting.