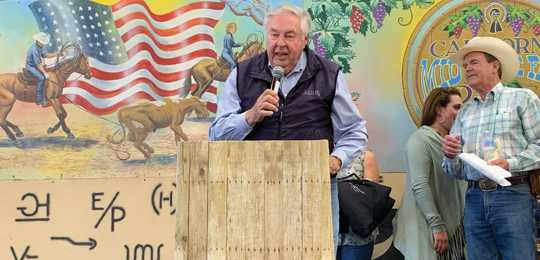 July 18, 2019
2019 Agriculturalist, Cattleman and Cattlewoman of the Year Named
Three local farm and ranch leaders honored at California Mid-State Fair
SAN LUIS OBISPO COUNTY, CA (July 18, 2019) – Local agriculture organizations recognized three San Luis Obispo County farmers and ranchers today during the Cattlemen and Farmers Day at the California Mid-State Fair. The 2019 award recipients are:
Kathy Arnold Loftus, Cattlewoman of the Year
Rex Swan, Cattleman of the Year
Jerry Lohr, Agriculturalist of the Year
The awards were selected by members of the San Luis Obispo County Farm Bureau, San Luis Obispo County Cattlewomen, and the San Luis Obispo County Cattlemen's Association. "We are grateful for the contributions these three people have made to San Luis Obispo County agriculture," said Farm Bureau Executive Director Brent Burchett. "Our county's nearly $1 billion agriculture industry is built on the hard work of farmers and ranchers, and today we are proud to recognize a few of our very best."
---
San Luis Obispo County Cattlewomen
2019 Cattlewoman of the Year
Kathy Arnold Loftus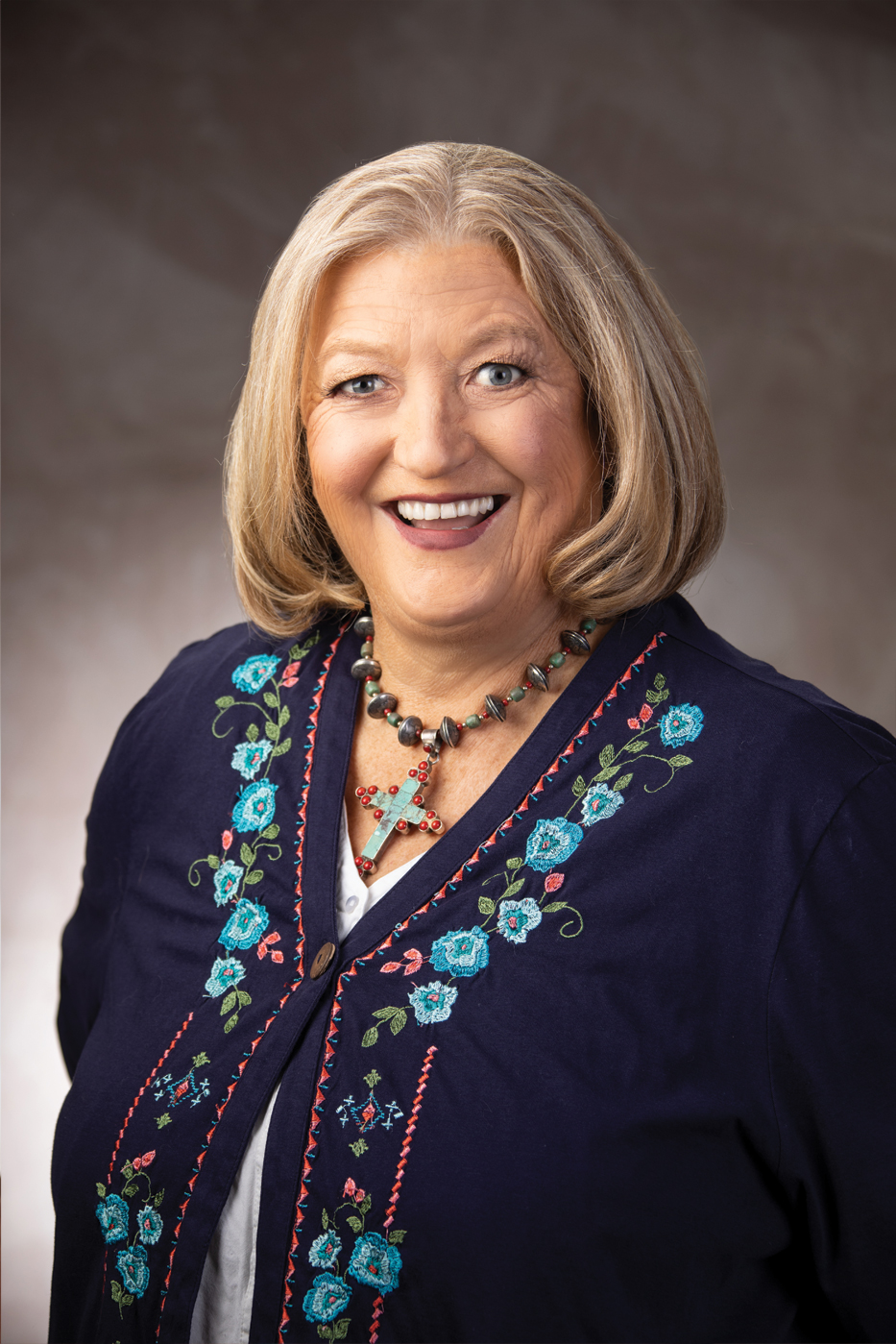 The San Luis Obispo County Cattlewomen have selected rancher Kathy Arnold Loftus as the 2019 Cattlewoman of the Year. A longtime advocate for preserving the community's ranching heritage, Loftus has worked her entire life in San Luis Obispo County agriculture.
Today, she has turned over the family ranching duties to her son, Claude, who raises cattle on several ranches throughout Santa Barbara and San Luis Obispo counties, including their home ranch in the Cuyama Valley. Loftus has two children, Claude Loftus (wife Bonnie) and Katie Cooley (husband Stan), and five grandchildren, Hazel, Elsie, Ada, Clayton and Grady.
She is the daughter of the late Claude and Hazel Kuhnle Arnold, who farmed and ranched at the Chimineas Ranch in Carrisa Plains since the early 1940s. Her father's family moved to the Pozo-Santa Margarita area in 1913, and the Kuhnle and Weir families on her mother's side moved into the Estrella and Shandon area in the 1880s. Both families were farmers and ranchers.
"The grandchildren will be the sixth generation of my family here in San Luis Obispo County working in agriculture," Loftus said with pride. She said her love of the ranching lifestyle goes back to her childhood with her twin sister, Claudia.
"My sister and I reminiscence about going to Bakersfield with my dad to receive cattle off the railroad cars, sometimes in the middle of the night. We'd fall asleep on the catwalk waiting to unload cattle and take them back to Chimineas." She said the ranch offered everything a kid could ask for growing up. "We'd take a drive on the ranch every night, or we'd have a picnic and go check cattle or look at wildlife, and for us, it was the best vacation we could have asked for. When you truly love the land, you just never want to leave it."
Through the 45 years she leased and lived at the Santa Margarita Ranch raising cattle, Loftus was also a champion for agriculture education and outreach. She worked to promote and preserve the community's ranching heritage by hosting and volunteering for countless farm tours, barbeques, and events.
From journalists to farmers from foreign countries, leadership groups, teachers, students, and even a Russian nuclear scientist, Loftus is proud of her legacy as an ambassador for agriculture. "No matter what the event, ag or otherwise, I always made sure people went away knowing they had been part of something special, and that it was because of agriculture, especially ranching, that they were there!"
She served in a number of leadership positions in agriculture, including a decade at the San Luis Obispo County Cattlewomen as a board member and chair of several committees, 16 years as a San Luis Obispo County Farm Bureau board member, a Cal Poly Rodeo Booster director, Paso Robles Pioneer Museum Historical Society board member, San Luis Obispo County Agricultural Education Committee board member, and an Agricultural Liaison Representative for former County Supervisor Mike Ryan.
She also volunteered in local philanthropic causes, including as a founding board member of Hospice Afternoon at the Ranch and as a fundraiser for Jack's Helping Hand. Loftus said the importance of supporting people with terminal illness and their families "really hit home" when her husband Don Loftus passed away from cancer at the age of 36.
Her peers have long recognized Loftus' contributions to the community. Today, thanks to the generosity of an anonymous friend, she has the honor of presenting the Cattlewomen's annual college scholarship in her name. "Nothing has been as rewarding as serving on the Scholarship committee," Loftus said. "Reading all those applications gives you faith in the future of agriculture."
"My main passion was sharing the ranch history with children. Through the years, probably every fourth-grade class in the county toured Santa Margarita Ranch. I called it, 'Early California Rancho Days, Past, Present and Future.'"
Loftus' love for telling the story of cattle ranching continues today. "We started a museum on the ranch, and presently I'm in the process of turning a cargo trailer into a traveling ranch museum so I can go anywhere throughout the state and give presentations."
She treasures having opened up her home and the ranch to college students over the years. "I was extremely proud to have helped in a small way over 20 college kids live at the ranch with us, and of those, 17 went on to graduate at Cal Poly."
Looking back, Loftus said some the best times she ever had were at Cattlewomen events. "From making beef promotion videos at Caroline Bello's home, to volunteering with Lesa John to represent Cattlewomen at a Cal Poly cooking demo, only to find out we were just the dish washers, to preparing dinner for school teachers in the County, I am grateful for all the friends and good memories I've made."
---
San Luis Obispo County Cattlemen's Association
2019 Cattleman of the Year
Rex Swan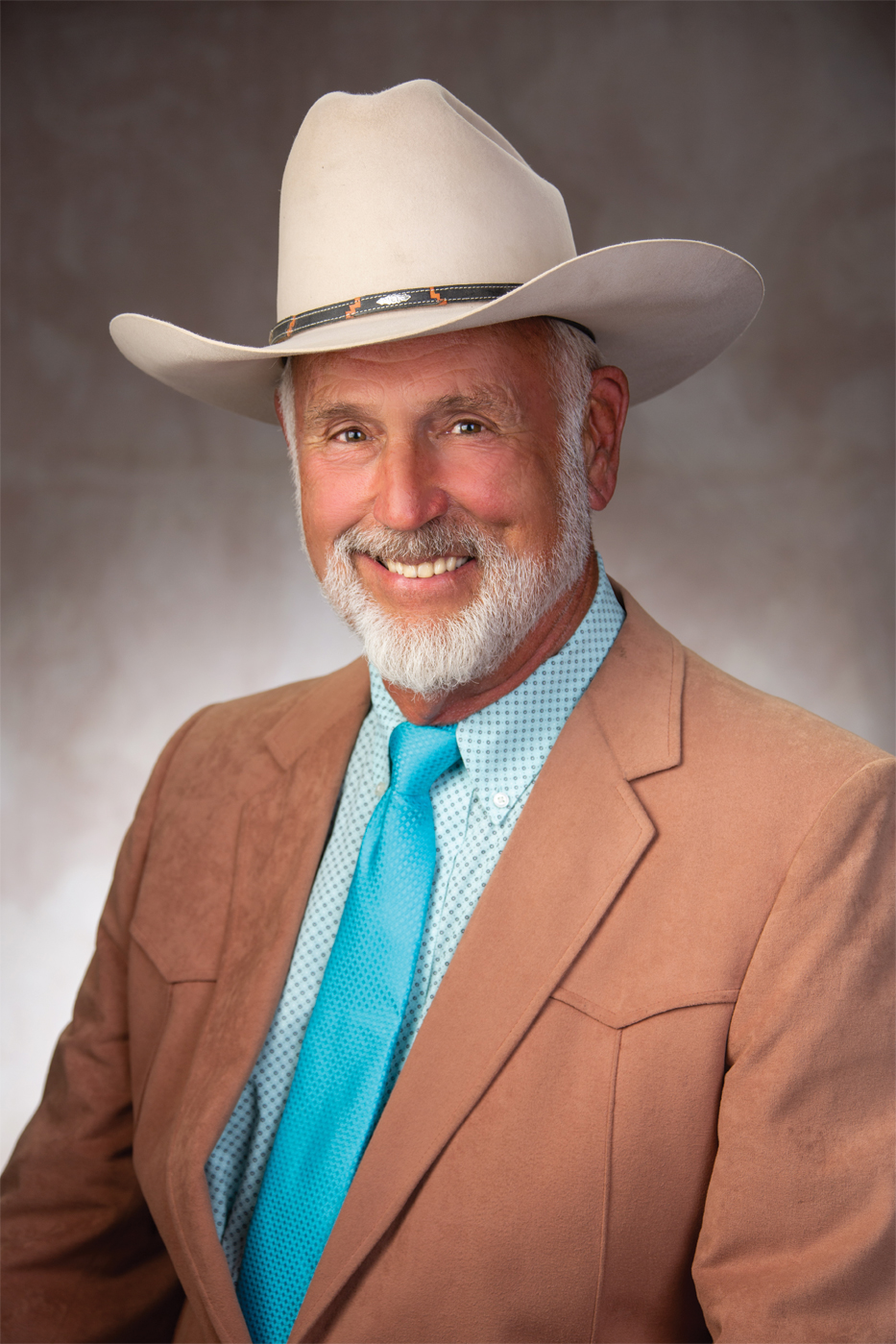 The San Luis Obispo County Cattlemen's Association has selected rancher Rex Swan as the 2019 Cattleman of the Year. Swan's legendary career advancing cattle genetics in San Luis Obispo County and the western United States included working with over 1 million cows.
He and his wife KC have been active citizens in the Templeton community for decades, volunteering for numerous civic and cattle industry causes. The Swans are the parents of three children, Ben, Lindsay and Ted, and several grandchildren.
Raised in California's Chino Valley, a region rich with Thoroughbred horses, farms and dairies in Swan's youth, he fell in love with the open country and cowboy lifestyle. There were 17 different farms and ranches in the Swan family when he was born, but "they were all gone by the time I came of age," Swan recalled. The summer before he began high school, Swan worked on a large cattle ranch in Central Nebraska, the Loop River Valley hard grass country. "It was the best summer of my life, cementing a lifelong love of Nebraska and the cattle industry."
Swan's leadership and service in agriculture started at Chino High School, where he played football and wrestled, was named to American Legion Boys State, and was heavily involved with FFA. His time in FFA would shape much of his future career. Aside from winning competitions for public speaking, parliamentary procedure, livestock judging, three Round Robin livestock contests, and earning his State Farmer degree, Swan attended the state FFA convention at Cal Poly San Luis Obispo for two years.
He and 40 FFA State Farmer students toured farms in 13 European countries, including a divided Berlin and Communist Czechoslovakia and Poland, "with the likes of John Stone, John Tracey, Harry Miller and so many others who I would become great friends with at Cal Poly during the following four years," Swan said.
Rex put himself through Cal Poly as a professional artificial insemination (A.I.) technician in Chino and on the 75 dairies that were still operating in San Luis Obispo County at that time. His work in the field and in the classroom prepared him for a "Blue Chip" position on the Genetics, Inc. beef staff.
"During my five years at Genetics, I got to meet all of the cattlemen on the coast from Santa Rosa south to Imperial Valley, an opportunity of a career," Swan remembered. "Genetics was importing semen on all the European "exotic" breeds, impacting our beef industry." He helped build the Genetics Range Bull Program, which included 2,000 bulls grown out, gain-tested, and marketed in a three-year period, including Tehama Angus. The program was the model for the Cal Poly Bull Test program format for all the years since.
Rex's industry expertise continued to grow, serving as the first coordinator for Genetics' pioneering Embryo Transfer Program and leading the first section of the Angus National Sire Evaluation program, along with eight other breeds, as progeny testing coordinator. He left Genetics in 1975, starting his own business, California Cattle Services, where he helped field-trial UpJohn's Lutalyse synchronization drug in Oakdale. He ran the nation's first 1500-head heifer synchronized A.I. program with Wolfsen's in Los Banos.
Swan eventually performed A.I. on over 150,000 cows, and fertility-tested over 12,000 bulls. He froze bull semen for A.I. and conducted successful embryo transfers on his own. He earned an industry-renown reputation for accuracy in pregnancy testing, having tested over 850,000 cows in the last 45 years. Added all together, Swan has performed A.I. on over a million cows.
In his off-seasons, Swan taught short courses on genetic A.I. and created the International Herdsman School. For over 23 years, more than 1,200 students benefited from his technical skills and industry experience. His International Herdsmen School held trainings at the Templeton Livestock Market, and courses at Cal Poly, UC Davis, Sierra College and countless other venues all over the western states.
In traveling two million miles through the West, he found there was no other place he would have rather raised his family than Templeton and the California Central Coast. Swan has served as a volunteer and leader on numerous organizations, including the California Cattlemen's Association, National Cattlemen's Beef Association, San Luis Obispo County Farm Bureau, and the Templeton High School Athletics Booster Support Club.
"The warm relationships with the coast cattlemen have given my family a livelihood and filled us with great memories," Swan said. "I want to thank all of my old friends and customers for a great career and for this Cattleman of the Year honor." But, don't put Swan out to pasture just yet. "I'll still be marketing great Swan Angus bulls for years to come."
---
San Luis Obispo County Farm Bureau
2019 Agriculturalist of the Year
Jerry Lohr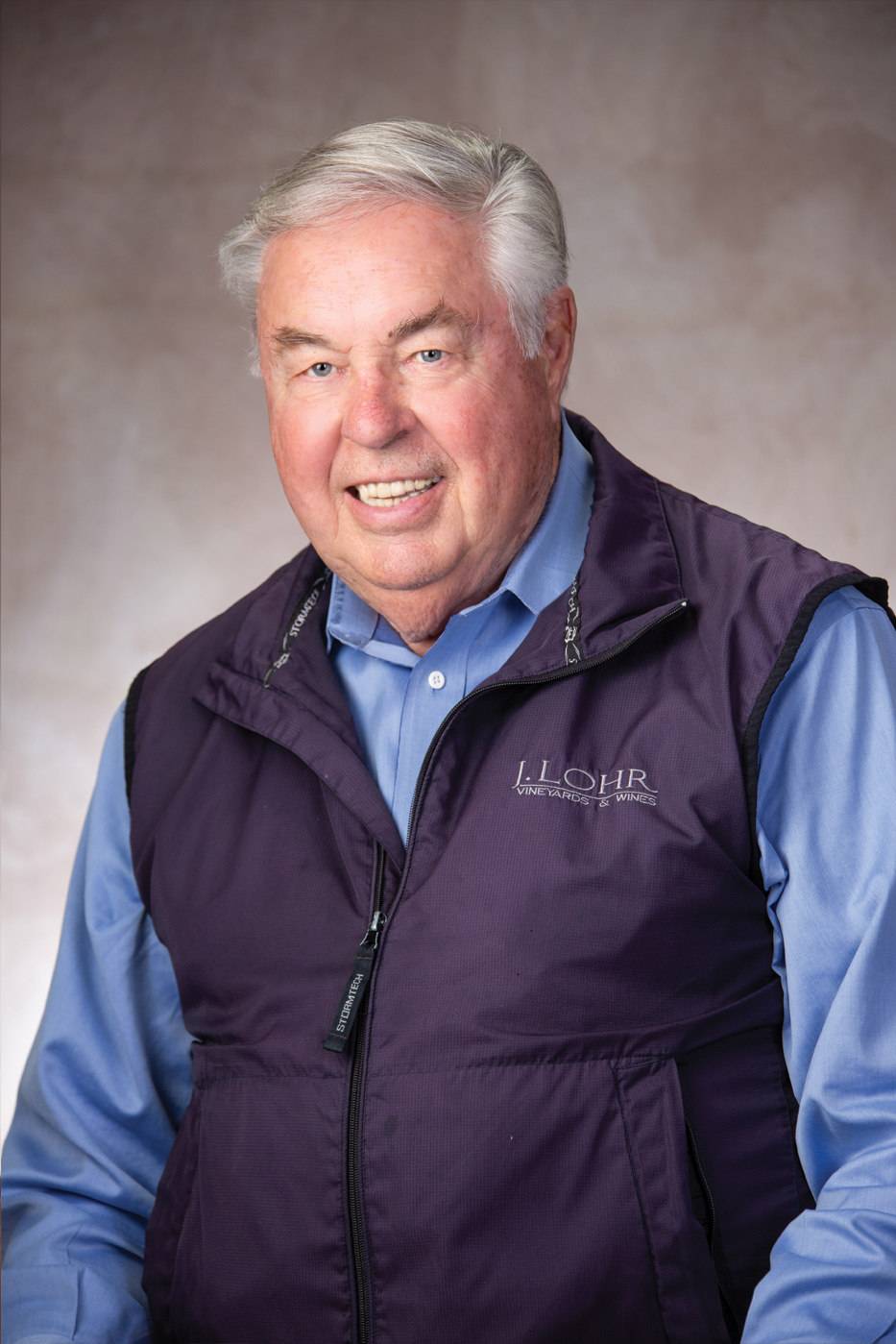 The San Luis Obispo County Farm Bureau has selected local vintner and wine industry legend Jerry Lohr as the 2019 Agriculturalist of the Year.
"I am very honored to receive this award," Lohr said. "My life's passion has been to participate in vertically integrated agriculture."
The son of a hard-working South Dakota farming family, Jerry Lohr was born and raised on a farm near the town of Raymond in the northeast region of the state. "I started driving a tractor and hand milking cows at age six in 1943!" Lohr recalled.
Lohr's passion for agriculture has been passed on to his three children, Steve, Cynthia and Lawrence, who help lead J. Lohr Vineyards & Wines today.
He said the importance of planting each individual crop in its appropriate place was instilled in him from an early age, and he grew to understand that every crop has a natural ability to excel under very specific growing conditions. Lohr said this knowledge would later become instrumental in his success as a winegrower.
He graduated from South Dakota State University in 1958. He received an M.S. from Stanford in 1959, and completed all coursework for a Ph.D. in civil engineering by 1961 before joining the Air Force. As an Air Force captain, he was posted as a research scientist at the NASA Ames Research Center, Moffett Field, from 1961-1964. Returning to civilian life, Jerry opened a land development and custom home building business, but his passion for farming and an appreciation of wine soon led him to take on a new challenge, winegrowing.
In the late 1960s, Jerry dove headfirst into his new endeavor with an extensive investigation of California grape growing regions. Aware of the importance of climate, soil quality and location, he finally selected the Arroyo Seco region of Monterey County for his first vineyard in 1972. He was also among the first to realize the untapped promise of Paso Robles in San Luis Obispo County, and in 1986 he began planting Cabernet Sauvignon, Merlot and other red varieties there.
Today, J. Lohr Vineyards & Wines farms approximately 4,000 acres of estate vineyards in Paso Robles and Monterey County, as well as 35 acres in the St. Helena appellation of Napa Valley.
He is respected universally by his peers for his intimate understanding of California winegrowing; and with his vast knowledge, he is able to address any facet of the winegrowing process, from the day-to-day details of vineyard management to leading-edge viticultural research. An industry leader and one of the few remaining substantial independents, he is a fervent advocate both for the Arroyo Seco area of Monterey County and for Paso Robles, regularly investing his energy and resources to champion these regions.
Lohr has worked on behalf of the entire wine industry, including posts as director and chair of the Wine Institute and chair of the Monterey Winegrowers Council. He is also one of the four founding members of Wine Vision, an industry group that promotes a long-range view of the wine industry. Additionally, Lohr founded the National Grape and Wine Initiative, a coalition representing grape growers, processors, wineries and academic institutions committed to improving the industry. Over the course of his career, he has served as founding director, four-time president, and chair of the marketing committee of the Monterey County Vintners and Growers Association. He has also served as director and chair of the marketing committee for the Paso Robles Vintners and Growers Association, known today as the Paso Robles Wine Country Alliance.
In 2007, UC Davis honored Jerry with its Award of Distinction, and the California State Fair presented him with a Lifetime Achievement Award. The following year, 2008, he was named Wine Industry Person of the Year by the Paso Robles Wine Country Alliance. In 2010, he received the Professional Excellence in Oenology award from the New York Institute of Technology, and in 2011 the California Association of Winegrape Growers honored Jerry with a Lifetime Achievement award. Lohr was also named the 2011 Volunteer of the Year by the District VI Council for Advancement and Support of Education, and was awarded the 2011 Merit Award from the American Society for Enology and Viticulture.
In November of 2016, Jerry was honored by the Wine Enthusiast Wine Star Awards as an "American Wine Legend." Hailed as an "industry icon" and "a pioneering winegrower," Lohr became only the third person in the sixteen-year history of the Wine Star Awards to receive this prestigious accolade. In bestowing the honor on Lohr, Wine Enthusiast's editor and publisher, Adam Strum, stated that, "What Robert Mondavi was to Napa Valley, Jerry Lohr is to the Central Coast, leading and elevating an entire viticultural region from Monterey to Paso Robles with perseverance, dedication and a passion for quality."
---
Please attribute photos to Tom Meinhold.