September 28, 2020
Farm Bureau is Still Here to Protect Our 'Essential' Industry
San Luis Obispo County Farm Bureau is here for our members during this public health crisis. Our office will be be temporarily closed to the public, but we are still working everyday remotely to advocate on behalf of our members and provide critical information regarding COVID-19 impacts to our agriculture community. If we can answer questions or offer assistance, please contact Executive Director Brent Burchett at bburchett@slofarmbureau.org, 805-543-3654 (to leave a message at the office) or 805-503-0150 (cell). Our most up-to-date resources are emailed to members every Friday in our SLO County Farm Bureau Weekly E-News. Are you a member and not receiving your email? Please let us know.

All Agriculture Operations Classified as "Essential Businesses"
All agriculture operations have been designated by the County of San Luis Obispo as exempt from the Shelter at Home Order that took effect March 19. Read the full text of the SLO County Order here and Governor Newsom's March 19 Executive Order here. NOTE: Currently (June 1, 2020) SLO County has now pivoted to use the State of California's Resilience Roadmap.
The best local source of SLO County reopening information remains the County's ReadySLO.org website.
SLO County's Order classified the following agriculture operations as "Essential Businesses":
(Section 4b) "Grocery stores, certified farmers' markets, farm and produce stands, supermarkets, food banks, convenience stores, and other establishments engaged in the retail sale of canned food ,dry goods, fresh fruits and vegetables, pest supply, fresh meats, fish and poultry, …"
(Section 4c) "Food cultivation, including farming, livestock, and fishing;"
(Section 4p) "Businesses that ship or deliver groceries, food, goods or services directly to residences;"
(Section 4v) "Businesses engaged in any form of cultivation of products for personal consumption or use, including farming, ranching, livestock, fishing, dairies, creameries, wineries, breweries, and associated activities, including, but not limited to, activities or businesses associated with planting, growing, harvesting, processing, cooling, storing, packaging, and transporting such products, or the wholesale or retail sale of such products, but prohibiting public consumption on-premises and providing that, to the extent, possible, such businesses comply with Social Distancing Requirements and otherwise provide for the health and safety of their employees."
COVID 19 Resources for Farmers & Ranchers
California Farm Bureau Federation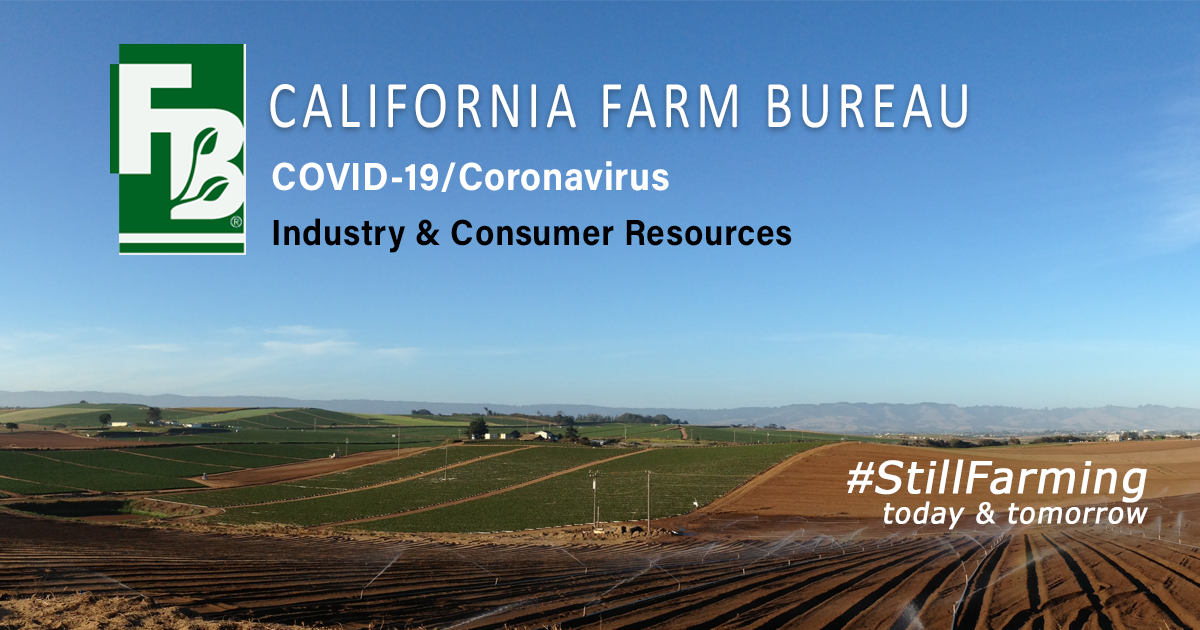 In these unprecedented times, keeping up with daily announcements and directives from all levels of government has been all-consuming. For our Farm Bureau members and agriculturalists, we have worked to compile the latest guidance documents and regulatory changes in an easily accessible format, with the goal of quickly providing the information farmers and ranchers need so they can remain focused on the health and safety of their families and employees. Learn more at: https://www.cfbf.com/covid-19-information/
San Luis Obispo County Agriculture Commissioner - COVID-19 Testing for Farm Workers - Click Here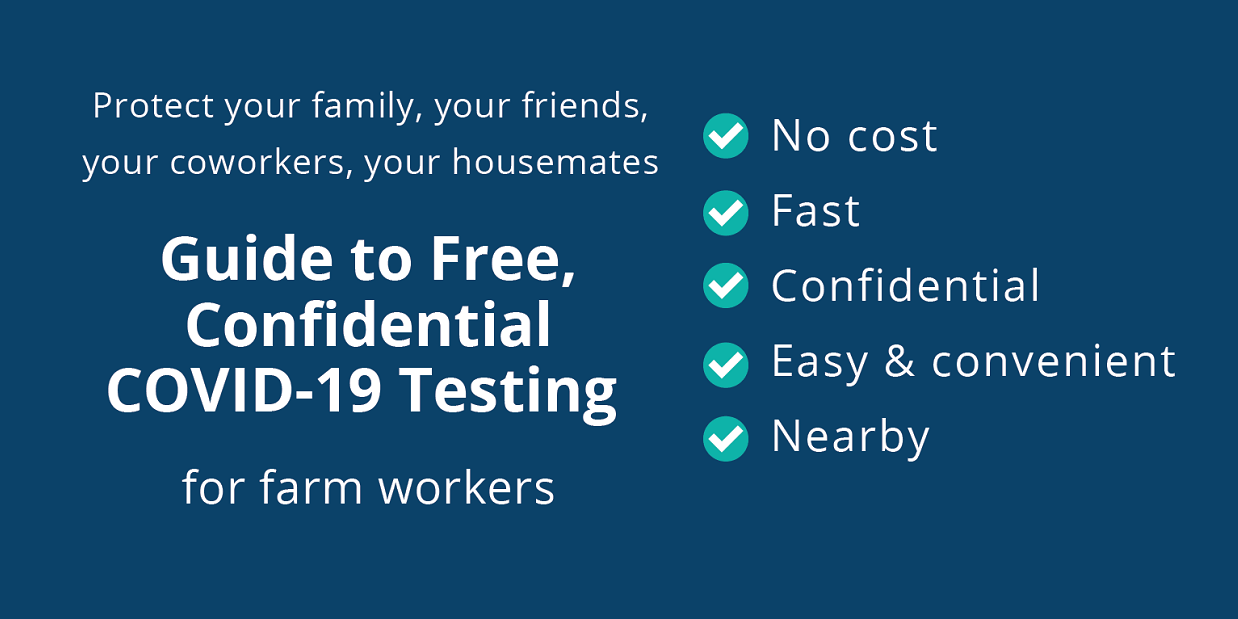 San Luis Obispo County Office of Emergency Services - Resources for Agriculture - Click here
VIDEO - Ask the Doctors: COVID-19 Questions Answered for SLO County Agriculture - On September 23, 2020 SLO County Farm Bureau partnered with the Paso Robles Wine Country Alliance and the SLO County Department of Agriculture / Weights & Measures to bring the latest medical information from local infectious disease specialist Dr. J. Trees Ritter. To watch the 1.5 hour video webinar on Facebook, click here.
California Department of Food and Agriculture - https://www.cdfa.ca.gov/coronavirus/
UCANR California Agritourism - Resources for Farm Stands and Direct Marketing Farmers - http://www.calagtour.org/Shelter-in-Place_Resources/
County of San Luis Obispo Office of Emergency Services - https://www.emergencyslo.org/en/covid19.aspx
American Farm Bureau Federation - https://www.fb.org/related/COVID-19
California Strawberry Commission - https://www.calstrawberry.com/en-us/Coronavirus
Wine Institute - https://wineinstitute.org/news-alerts/coronavirus-covid-19-update
California Cattlemen's Association - https://calcattlemen.org/category/press-releases/covid-19/
Western Growers - https://www.wga.com/sites/default/files/wg_covid19_industry_faq.pdf
Leafy Greens Marketing Agreement - https://lgma.ca.gov/
San Luis Obispo Chamber of Commerce - https://slochamber.org/covid-19-resources-for-businesses/
South County Chamber of Commerce - https://www.southcountychambers.com/covid-19-resources
Paso Robles Chamber of Commerce - https://www.pasostrong.org/
Templeton Chamber of Commerce - https://www.templetonchamber.com/covid-19-resources/